Posted by Craig on November 3, 2015 6:46 am
Photos by Brett Vo.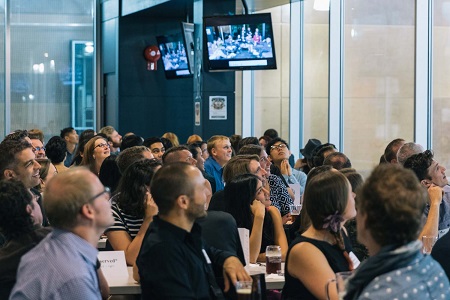 Saturday, October 17th marked the 7th Annual Awards Banquet for the VUL. It's was an evening full of laughter and recognition as we assembled the VUL's largest contributors – board, staff, co-ordinators, organizers, volunteers, partners, top spirited players, and hall of famers.
The evening began with drinks and appetizers. Upon taking their seats before dinner, guests were welcomed with a slideshow titled 'The Past Year in Photos'.  After dinner, the awards and hall of fame inductions began. Here are this years' award recipients and hall of fame inductees!
Volunteer Awards
Cody Hubbard
Diana Hunter
Both winners received a $75 Rackets & Runners gift card.


Coaching Awards
Myles Lu
Karen Wright
Recipients received a $50 Rackets & Runners gift card and $50 towards a coaching course of their choice.

Individual Spirit Awards
Jeffrey Roy
Shannon Seid
Each recipient received a $250 Rackets & Runners gift card for this prestigious award!
Most Spirited Teams
Although these awards were announced in September, the Banquet was the VUL's chance to recognize the top spirited teams in the VUL, and present them with their well deserved award – a $500 gift certificate for Oddball Workshop. Big thanks to our jersey partner, Oddball Workshop for this fantastic prize!
The winners were:
Monday: Random Fling
Tuesday: Robot LOve
Wednesday: Local Pint
Thursday: Hand of Chal

Carbon Flip Award
Our green initiative to encourage biking and carpooling to games resulted in two teams with perfect scores during Summer League! The winning teams of Absolute Chaos and Frisdom Fighters V3 each received 75 minutes from EVO Car Share per player!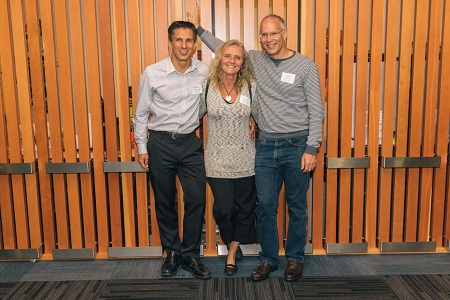 Hall of Fame Inductions
Throughout the evening, three more legacies of Vancouver disc sports were inducted into the VUL Hall of Fame - Steve Oldenburg, Carlo Giuliani and Carla Keffer. This brings the total number of VUL Hall of Famers to fourteen. You can read about each inductee on our Hall of Fame page.

Photos
See all the photos in our Awards Banquet Album on facebook.