Posted by Youth Marketing on February 23, 2019 2:20 pm
Spring Break Camps – fun for 8-14 year olds
We're probably biased, but we think living here on the West Coast is the best. Why, you might ask? Well, our temperate weather allows us to play ultimate year-round! And in March, when Spring Break rolls around and the rest of Canada is still under a deep freeze, we're able to hold our Spring Break camps.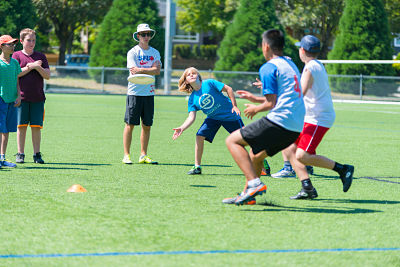 Our VUL Spring Break camps give kids ages 8-14 the opportunity to have fun during the school break. They'll stay active through drills and games, and they'll also be learning lots. Ultimate teaches the values of teamwork, respect, and social-emotional learning – it's really the perfect sport for both kids and parents. 
We're holding two weeks of camps, and each week is broken into half-days (mornings for 8-11 year olds; afternoons for 11-14 year olds). The two weeks are at different locations, one east and one west. 
March 18-22: Van Tech Secondary School
March 25-29: Point Grey Secondary School 
The cost is $175 and includes a VUL disc and jersey! 
Each day is a mixture of skills learning, game play, and other great games – ultimately, participants are here to have fun. Our experienced instructors will also make sure that all kids feel welcomed and supported. 
Our coaches also recognize that participants will have varying levels of familiarity with ultimate –some will know the basic throws, others will be learning it all for the first time – and they will tailor their instructor to each child's skill level to ensure they are getting the most out of each day. We want every child to finish the program feeling like the stayed active and had fun! 
Registration is open now. For more info, and to register, see our Youth Camps page.