Posted by Kristine on December 15, 2020 10:45 am
We recognized significant contributors to the VUL community at our Extraordinary General Meeting earlier this month on Tuesday, December 8. 
We could not host our annual awards banquet this year due to the coronavirus pandemic. But, we did not let this stop us from acknowledging the incredible commitments this year's recipients have made to our sport and our members.
Individual Spirit Awards
Our most prestigious awards are the Laurel Stroppa-Atwood Spirit Award and William Arthur Hawkins Spirit Award. This year's recipients are Virginia Watson and Melissa Woodward!
Virginia Watson is described as someone whose love of the game is contagious. V, as she's often called, has been involved in this sport as a captain, coach, women's league mentor, and elite level player. Here are a few of the quotes from those who nominated her:
"I've played this game a very long time, I've played with a lot of people, and it's rare to find someone that I can learn from. [She is] super knowledgeable, super enthusiastic about the game, an utter joy to play with (or against)."
"Virginia is an amazing player - and a respected one - on the field. Yes, she can cut, can huck/hammer with the best of them and play any position. What is even more remarkable about Virginia is that it doesn't matter what skill level you are, she will ensure you are included in the game. If you're open, you get the disc. That's it. Period."
Melissa Woodward has fostered the growth of ultimate outside of Vancouver as the coordinator for the Maple Ridge Ultimate League since 2017, and has also been involved in the sport as a coach, captain, and club player. Read more about Melissa in our recent Community Spotlight.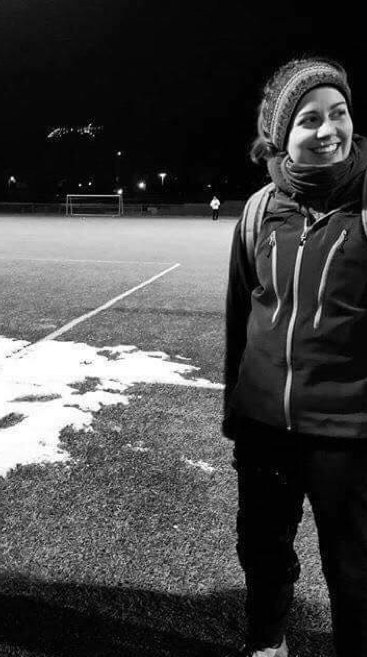 "I truly believe her positive attitude and willingness to help newer players have helped many people to have a positive experience and stay in the VUL. On top of being a top-notch teammate and leader on the field, Melissa also contributes to team culture in positive ways, and often takes on extra roles to help share the workload that goes into making a team run … Melissa is one of the most selfless teammates/coaches I've had the pleasure to meet through the VUL. She's had a huge impact in her behind the scenes roles for teams and MRU, coaching/mentoring, and by role modelling a positive attitude on the field."
Both winners receive a $250 gift card to Support Local BC and the trophy!
Photo credits: Cameron Sparling (Virginia, top) and Gesa Balbig (Melissa, bottom).
Volunteer of the Year Award
Staff at the VUL decided to award the Volunteer of the Year Award to our Board of Directors. Made up entirely of volunteers, the board took on more responsibilities in 2020 than they would have in a typical year due to the spread of COVID-19. This year, directors convened for extra meetings and conversations to help our organization navigate the challenges and complications that arose due to new and ever-changing health orders related to playing sports. We also wanted to recognize the work that went into the VUL Code of Conduct that the board finalized just a few months prior to the start of the pandemic, which lays out how our organization is committed to ensuring a safe and respectful environment free of bullying, violence, harassment and discrimination.
Directors serving on the board in 2020:
Trisha Roberson
Sarah Cawston-Stewart
Ken Su
David Midgley
Christa Hoy
Lisa Riddle
Zun Zhang
This award was sponsored by our community partner Strange Fellows Brewing.
To see a list of past VUL award recipients, visit our Awards page.