Posted by Shanna on April 17, 2021 8:36 pm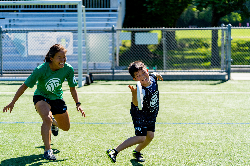 This year we are excited to start our youth programs at the end of May! Our coaches have worked hard to develop programs that have adapted skill-based drills and activities. With the safety of participants as our top priority, our youth programs continue to focus on the fun that is ultimate and the community that it brings together!  
Check out our four summer programs for ages 8 through 18: 
Summer Day Camps
U19 Skill Series
U16 Skill Series
U14 Girls Skill Series
2021 Options
Summer Day Camps
Summer camps with the VUL are a great way to introduce kids to the amazing sport of ultimate. These programs are designed for new, beginner and intermediate players. Kids will leave our camps with new skills, friends and continued development in social-emotional learning and physical literacy.  
There are six weeks of camps available in July and August. Find your perfect week and sign up!
Summer U19 Skills 
 All aspects of the game of ultimate are worked on weekly. Valuable techniques and strategies will be utilized at this level. This summer our U19 coed series is 10 weeks and offered at two different locations:
Mondays 6pm-8pm at Empire from May 31 - Aug 9
Wednesdays 6pm-8pm at Winona from June 2 - Aug 4
For more details take a look at our U19 Summer Skills page. 
Summer U16 Skills
Due to its popularity the VUL is offering a U16 co-ed program in the summer for the first time! This program is similar to the U19 Skills program. Participants will be taught by experienced instructors who can help them with everything from a basic flick to O & D fundamentals. Ultimate and sports for the 13-15 year old age group positively contributes to power, speed and agility skills. This is a 10 week program and offered at two locations:
Sundays 10am-12pm at Empire from May 30 - Aug 8
Sundays 2pm-4pm at Winona from May 30 - Aug 8
Check out our U16 Summer Skills page for more information. 
Summer U14 Girls Skills 
Our U14 program is created and delivered in a way that is positive, encouraging and confidence boosting to all participants while providing the foundational skills for Ultimate. This is our fourth season of this program and this year we are offering two 6 week programs! 
Early summer - Saturdays 10am-12pm at Rupert from May 29 - July 3
Mid Summer - Sundays 10am-12pm at Empire from July 4 - Aug 15
For more information check out our U14 Summer Girls Skills page. 
Job Opportunities
Would you like to share your love of ultimate with others? We're looking for coaches and instructors for our summer programs!
Visit our Jobs page to learn more, and apply soon!
Staying Safe
Our activities will be amended in accordance with evolving health guidelines. Some of the steps we are taking include:
Training our instructors in all guidelines.
Providing hand sanitizer on site for participants
Instructors will sanitize discs before and after sessions
Minimal sharing of equipment (using VUL-provided discs only). Participants are expected to bring their own water and snacks
Limiting the number of participants to allow for physical distancing; ensuring participants and instructors will maintain the mandated distance from each other
Please note details are subject to change depending on new government guidelines, please see our COVID Resources page.
Our priorities include the health and safety of our participants, staff and communities in which we live. There are many benefits to being active and playing ultimate, we look forward to getting back on the field under the right conditions soon!