Posted by Craig on May 17, 2017 10:01 am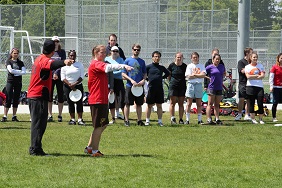 Do you have any friends who should try ultimate?
Are you new to the VUL? 
Hands down, the best way for new players to see a huge jump in their skill level is to participate in our Summer League Camp.  Led by our Coaching Coordinator and former Team Canada player Mauro Ortiz, we teach the game from the ground up.
The first 6 weeks is a series of clinics to build the essential skills for game play, followed by 5 weeks of games led by an experienced mentor. All of our instructors are top notch coaches and players.
Seriously, if you think you like ultimate and want to get better, do the camp. Read more on the Summer League Camp page.  Registration ends on Sunday, May 28.