Posted by Craig on March 14, 2019 9:44 am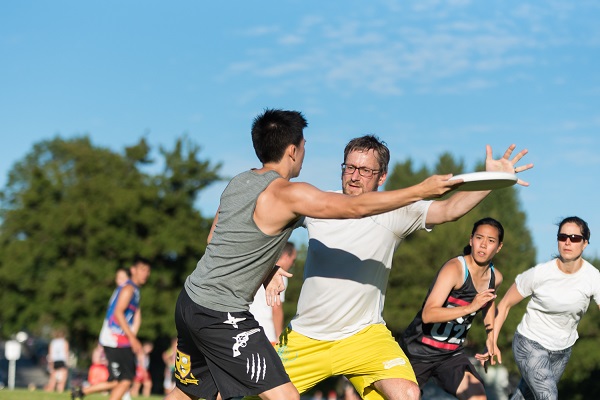 Summer is the best time for ultimate!
There's nothing like running around in the sun chasing plastic, being active and meeting up with old and new friends. So why not join 4500+ players in our most popular season?
1. Summer League
You now have two options in our main summer league:
i. Regular Format - Because two games are better than one!  Mon, Tues, Wed, and Thurs evenings.
ii. Single-Header Format - Play one game to 17. Best for families and busy folks. Played on Monday and Wednesday nights.
Registration Timeline
March 18 - Open for Returning teams
April 1  - Open for New teams
April 15 - Open for Individuals (if you'd like us to place you on a team)
April 22 - Registration closes
April 27 - Ultimate Day - Free clinics and workshops for all players. (Plus Captain's Meeting)
April 29- May 2  - Spirit Week - Fun pickup games and summer warm up
May 6 - Games start
Full Summer League details can be found on our Summer League page.
New Start Time
This year games are expected to start at 6:30 pm. That means arriving by at least 6:15 pm to cleat up and warm up. As you likely well know, starting games on time has been a problem in VUL Summer League for many years. In recent years, we stopped expecting games to start at 6:00 pm. Our permits start at 6:00, so we told captains to start by 6:15, but many games still started later. This change acknowledges these time constraints. It's not a huge shift, but we want to do what we can to help more people play ultimate and be satisfied with start times. For a full explanation on the start time change, please read our article about it. 
Looking for a team?
Or want to start one? See the Find a Team page.
2. Beginner Camp
We offer a Summer League Camp for beginners and new players from June- August for players with 2 years experience or less. You'll learn the game from  the ground up through 6 weeks of skills development and then be placed onto teams with other camp participants and play games for 5 weeks, all with the help of a mentor!
3. Regional VUL Leagues
i. New West League. Play 5-on-5 hat closer to home on Thursday evenings. See the New West league page for full details.
ii. Surrey League. This 7-on-7 team league has been running in Surrey for years and joined the VUL family last year. 16+ teams playing in a fun local league. See the Surrey page for more info. 
---
Getting Started as a New Member
If you're looking to start playing this summer in the VUL, see our article titled 'How to Start Playing Summer Ultimate as an Adult in Vancouver'.  Brand new players should be sure to attend an Intro Session and consider our Summer League Camp for beginners.