Posted by Craig on November 29, 2017 4:20 pm
We are so lucky to live in this beautiful city where we can play ultimate year-round! With that said, we've got plenty of options for you to choose from to stay fit this winter, including our first ever goaltimate league!
Winter League 2018 Registration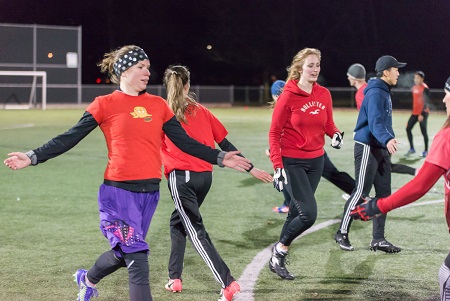 Our Adult Winter League options include:
A note re. Winter Hat: We decided to discontinue the weekend Winter Hat 7-on-7 league this year. It was a hard decision. That league has a very long history in the VUL - it was a place where players of all skills got to mix with each other, and new players were actively mentored by older experienced ones. However, registrations have been consistently declining as interest in other leagues grew, to the point where we expected only 4 teams this year. After considering a variety of options, we decided to try Goaltimate instead. We hope you'll give it a try!
​Finding a Team
Indoor, Goaltimate, Parity and New West Hat are all Hat leagues, so you register by yourself or with 1-2 friends and we form all of the teams.
Winter Turf is a Standard league, where teams register for the league. If you don't have a team, read how to Find a team to play with. If you can't find a team, Placement registration will open on December 27. With that option, you can then register by yourself or with 1-2 friends, and we will attempt to form some teams. Read more about placement registration.