Posted by League Manager on November 28, 2019 3:01 pm
If there's one thing we love about winter ultimate in Vancouver, it's all the options the mild climate affords us. We've got Turf, Indoor, Parity, Grass, and even a league in New West!
Stay fit this winter, play with your friends, and meet some new ones. Read on to learn more – registration opens on December 5!
Winter League 2020 Registration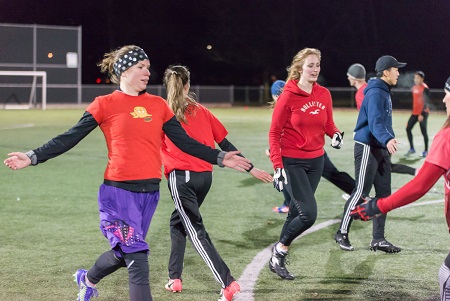 Our Adult Winter League options include:
1. Winter Turf (5-on-5): This league is one of our most popular, with options for all skill levels on two nights (Mondays and Thursdays). The quick pace of 5-on-5 will keep you warm during the chillier evenings of January to April. Register from Dec 5 - Jan 5 (returning teams from Dec. 5 and new teams from Dec. 17).
2. Indoor Hat (5-on-5): Want to play ultimate year-round and stay out of the rain? Our indoor hat league may be the one for you! Play in a warm gym on Sunday afternoons. This league fills up quickly so don't delay! Register from Dec 5 - Dec 22.
3. Winter Parity (4-on-4): Parity is a fantasy league you get to play in. The 4-on-4 format means plenty of touches for everyone, with a 2:2 gender ratio on the field at all times. This Tuesday evening league takes place under the lights at Trillium. To help with gender parity, anyone who refers a new woman-matching player will receive $5 off their registration and the new player also receives $5 off! "New" means has not played in this league in the last 2 years. Register from Dec 5 to Jan 3.
4. Winter Grass Hat (5-on-5): This hat league is perfect for beginner and intermediate players who want good grass fields, daytime play, and to meet new people. Last year we switched to a 5-on-5 format and added a fun twist: sub on the fly, stay warm, and if games are cancelled due to weather, we'll organize a social event in instead! Register from Dec 5 - Jan 26.
5. Winter Hat in New West (5-on-5): Do you live outside Vancouver? This community hat league may be more convenient for you, located at Mercer Stadium in New Westminster. And we've moved to a new night: Tuesday evenings! You can play in New West to meet new people for summer, and still play with your team in Vancouver. Register from Dec 5 - Jan 7.
Looking for a team?
Most of our winter leagues are Hat leagues. This means you register on your own as a Single, or with one or two friends as a Duo or Trio , and we form the teams for you! Note at least one person in a Duo or Trio must be a woman-matching player.
The exception is our Winter Turf League, where your captain registers your team. If you don't have a team but want to play in this league, placement registration will open on December 27 and we will attempt to form some teams of individuals. Please note that placement is not guaranteed with this option, so we encourage you to try to find a team for Winter Turf league.
If you have any questions:
Happy playing!