Posted by Craig on April 10, 2016 10:01 am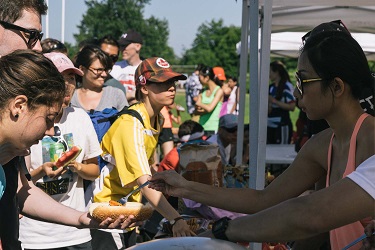 Summer is around the corner and so we have multiple events coming up where we could use you helping hands!
Email volunteer@vul.ca if you are interested in any of the following!
Ultimate Day - April 23 (Sat)
We are looking for enthusiastic volunteers who can assist to make Ultimate Day a success. There are two shift times available: 8 am -12 pm or 12 - 4 pm.
Here are the three areas for volunteering:
    Merchandise - Set up the merch table and sell our awesome gear, including the new shorts coming this year!
    BBQ - Set up, prep, and re-stock the bbq foods as the get devoured
    General - help with set up or clean up and general duties here and there
In you message to our volunteers email address please include your availability and any preference of role you have.
Spirit Week - April 25-28 (Mon - Thurs)
Spirit Week is a week of fun-filled ultimate, spirit games and prizes the week before Summer League starts. We're looking for spirited and outgoing folks to help represent the VUL. Each event is held from 6 pm - 8 pm at Memorial Park.
Super Clinic & BBQ - May 28 (Sat)
Our biggest clinic event of the year held at Jericho Park. We've got the clinic covered by our clinic team and touring players but could use your help with BBQ set up, prep, grilling and serving from 2 - 6 pm.
Email volunteer@vul.ca to get involved.