Posted by Craig on September 5, 2014 11:45 am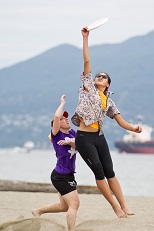 On Monday, September 1st the VUL hosted it's first Beach Tourney!  Situated at Spanish Banks West, 16 teams spread out over two tiers battled it out to be crowned the winners of this inaugural event. 
This tournament was nothing Vancouver has seen yet.  4 on 4 Beach Ultimate uses smaller field dimensions (36 X 50 yards), and quirky rules such as inverted only pulls, and two point goals for end zone to end zone plays.  
This tropical themed tournament saw some amazing get-ups ranging from floral shirts and shorts to leis of all colours and sizes.  To enhance the theme, the sun was shining for most of the day forcing people to slop on the sunscreen. 
The afternoon welcomed an amazing BBQ with a diverse condiments table, and the final playoff timeslot was accompanied with an ice cream bar that not only had four types of ice cream, but sauces and sprinkles. 
In the end, Top Gun was the tournament champions! Just like any VUL event, it could not have been as successful as it was without the dedicated volunteers.
You can view photos from the event in our Beach Tourney Album on Facebook.