Posted by Craig on June 20, 2018 3:56 pm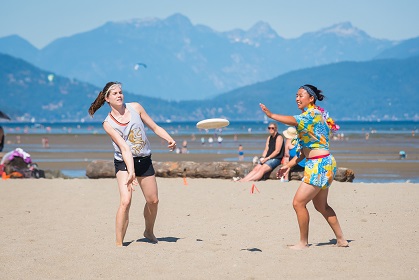 The VUL and Rain City Ultimate Club (RCUC) are teaming up to co-host 'Beach Disc Day' on Saturday, July 28!
Come join us for Beach Goaltimate and Disc Olympics on the sands of Spanish Banks, against the backdrop of a gorgeous view of downtown Vancouver.
Schedule
Here's what the day looks like:
10:30 am -12:30 pm – Beach Goaltimate!
12:30 pm -1:00 pm - Lunch
1:00 pm – 4:00 pm – Disc Olympics (and other beach games)
The Details
Arrive early to get in on the beach goaltimate action. This is a rare opportunity to play this fun version of ultimate on the sand! Not sure how to play? Watch this video!
 
Lunch is provided – vegan, vegetarian, gluten-free, dairy-free and meat sandwich options. There'll be snacks too!
Disc Olympics is a series of games you'll be able to play through the afternoon by visiting various stations in groups of 3. 
Register with your friends or on your own and we'll match you with others. 
Cost
This event has a small cost as a fundraiser for Rain City Ultimate Club to support the growth and inclusivity of LGBTQ2S+ ultimate players in Vancouver.
The VUL is covering the cost of lunch so that all funds raised through ticket sales will go to RCUC. What a great way to kick off Pride Week in Vancouver! Here are the fees:
Single - $9
Duo - $15
Trio - $20
Who is RCUC?
RCUC is a non-profit community organization dedicated to promoting ultimate to LGBTQ2S+ individuals and allies in Vancouver by providing a supportive and fun atmosphere in which to develop as athletes and individuals. They host weekly practices in the summer, a Pride tournament during Pride Week and have several teams playing in VUL leagues throughout the year. Learn more on their website.
Registration
Registration is now open! The final day to register will be July 26. 
VUL Captains and Assistant Captains, please register here instead.