Posted by Craig on December 8, 2014 4:25 pm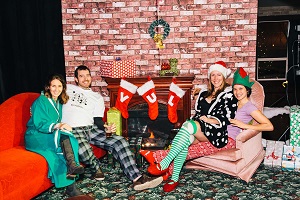 The 4th Annual VUL Christmas Party once again showed how much fun parties and costumes go together.
It all went down on Friday, Dec 5th at the Anza Club. This year the theme was 'Christmas Morning' – there were some amazing pajama outfits including several one-sies from the classic all red or green, to penguin, panda and reindeer one-sies! Be sure to check out all the great photos taken in the cozy living room that we created on stage.
Gift Exchange Prizes
In the annual gift exchange, there were 3 big winners of the VUL's planted gifts:
    A pair of Canucks Tickets - Nina
    Tickets for a team to the Comedy Mix (x 15) - Judy
    VUL Prize Package - Jack
Mmmmm baking
​​Big thanks to the 10 bakers who treated us with their pastry skills, and the over 100 VUL-ers who came out for the fun of being a kid again on Christmas morning!
Photos
You can check out all the photos in our Christmas Party facebook album.