Posted by Craig on October 22, 2018 10:12 am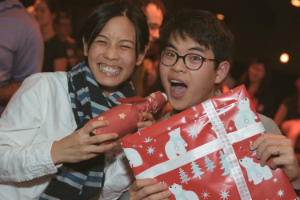 We're celebrating all the holidays this year with our first ever Holiday Curling event! Come join us on Saturday, December 15, 2018 at the Vancouver Curling Club (Near QE Park) for throwing some rocks, falling on ice, and being festive.
Here's what the event entails:
1:00-3:30 pm – Holiday Curling! Arrive for 1 pm. Instructions at 1:15. We take the ice at 1:30 pm. 
3:30-6:00 pm – Holiday Social – drinks, appies and a gift exchange (the gift exchange is optional, but FUN so why wouldn't ya?)
Curling Info
It doesn't matter if you've never curled. Just dress warm enough for an ice rink and the rest will be taken care of. You'll get a quick lesson and start tossing stones.
We're playing for fun and jolly good times. You'll play 2 games over your 2-hour curling adventure.
Spirit Prizes
Teams that embrace the holiday spirit via costumes, team names and creative fun will all be rewarded with a prize. AND the Most Spirited Team will win a $200 Strange Fellows Gift Card!
Gift Exchange
We're bringing back the holiday gift exchange with a few tweaks. You'll bring a wrapped gift – something from your home that you know others would want – think lightly used books, board games, gifts you have received in the past but never opened, your best home brew beer… etc. The value should be $10- $25.
Registration
You can register as a team of 4 (or 5), or as a single or duo to be place on a team.
The cost is $140 per team which includes curling, a pitcher of beer and appetizers. Singles are $35 and doubles are $70. Non beer drink options will be available.
Registration opens Nov 5 via the registration page. This is a 19+ event.