Posted by Kristine Salzmann on December 10, 2020 9:24 am
We asked our fall league teams: how has your team adapted to the new COVID-19 policies to help keep each other safe?

No subs. No more high fives and spirit circles. Physical distancing on the sidelines. Lots of hand sanitizer! We've seen a few changes to our beloved sport this year.
We loved hearing about the creative and practical ways our fall teams embraced the new policies and wanted to share a few with you in the hope that they inspire your team if we're permitted to play games again this winter! (For an update on our Winter 2021 plans, please see this article).
---
Our captain Glen brings a massive container of sanitizer which we all use before the game, as well as keep space between us, and no high fives - so of course we use "finger guns" to signal a kudos after a great play! After the game, we're sad we cannot high five our opponents, but give a rousing, excited "cruise ship wave" from a safe distance to our opponents that we just had a fun, safe game with!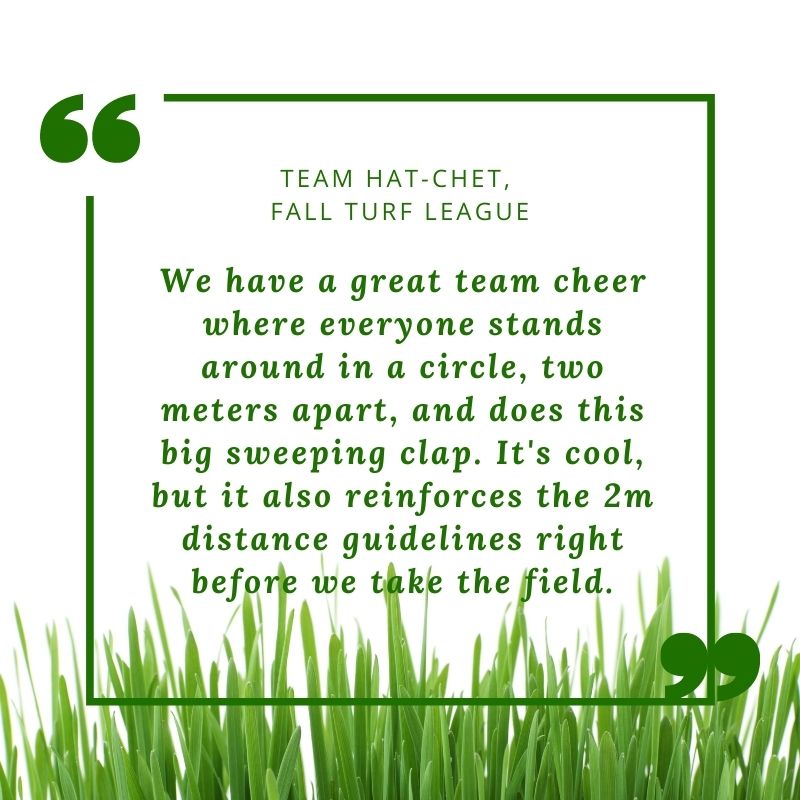 Our team - Nuance! - bought a giant bottle of hand sanitizer at Costco and is using it diligently before/during/after games.
Team Open Book gathers (2m apart!) at the beginning of the evening for roll call, ensuring everyone is feeling good and [to] go over spacing reminders! Sounds kind of square (?). But I think it helps everyone relax a bit, knowing we are in it together and respecting all the participants (and everyone else in their bubbles)!
Instead of slapping hands to sub, we started having the person subbing off touch a cone on the sideline with their foot.
Here is how Hand of Rona is obeying the new rules around COVID, in Haiku form: Hand of Rona's "D" / 2 metre marks are not new / Cuz we're old and slow
On "We The North," our amazing assistant captain Nancy emailed out detailed guidelines from notes she recorded at the captains' meeting, and included the image you attached. She also repeated those guidelines at the field before our first game on Monday.
It has brought me great joy to holler SUBBING or the names of my teammates while running off the field, sometimes with wildly waving arms, to make it clear that a switch is happening instead of high-fiving (clear to both my teammate and whoever is marking me).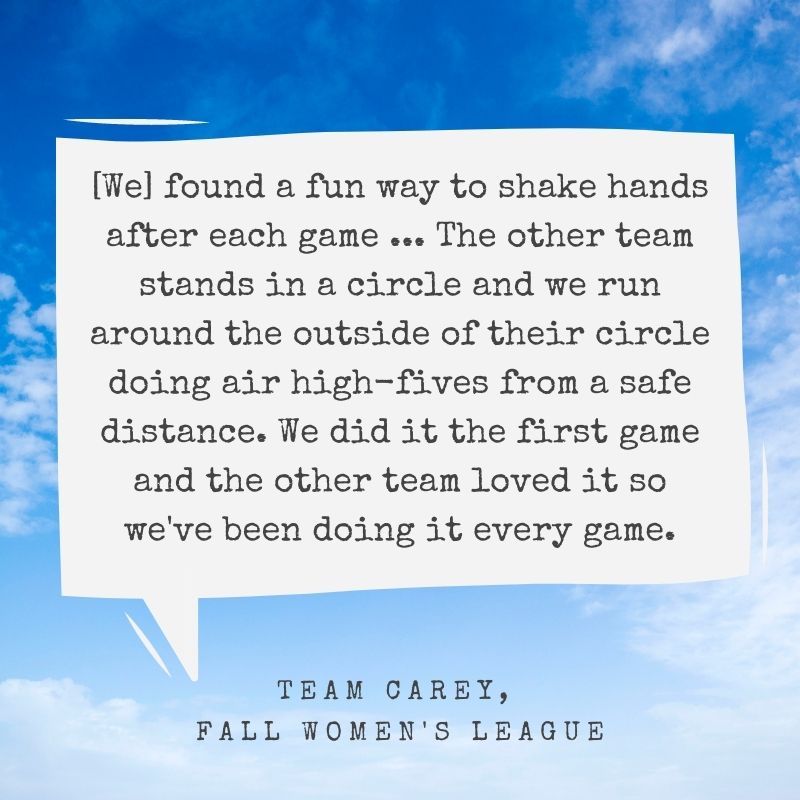 We [The Dr. Bonnie Henry Experience] keep space between ourselves (some peeps are closer as they are in the same social bubble), and are at least 20 feet from the other team when we courtesy/bow in appreciation of the other team's awesomeness. Physical distancing at its classiest!
What we're doing to follow COVID-19 guidelines: we have a great team cheer where everyone stands around in a circle, two meters apart, and does this big sweeping clap. It's cool, but it also reinforces the 2m distancing guidelines right before we take the field.
My team Carey found a fun way to shake hands after each game that follows the new guidelines. The other team stands in a circle and we run around the outside of their circle doing air high-fives from a safe distance. We did it the first game and the other team loved it so we've been doing it every game.
---
Registration for our 2021 winter programs opened Dec. 10. Register today!