Posted by kristine.salzmann@vul.bc.ca on February 8, 2020 6:45 pm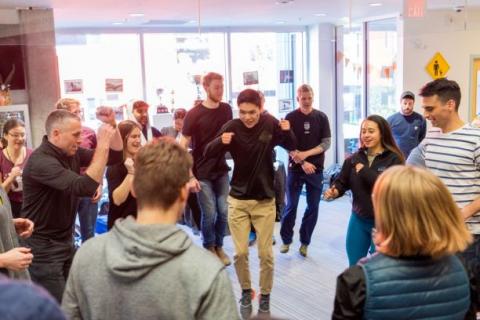 Update February 26: Presenter bios are now posted! 
---
Our fourth annual Vancouver Ultimate Coaching Conference is set to take place on Saturday, February 29, 2020 at Stratford Hall School!
Are you a coach or interested in coaching? With two tracks of sessions, we have workshops for all levels. Ultimate 101 is for anyone new to coaching or looking to brush up on their fundamental skills, and Coach to Compete is for those who want to take their coaching to the next stage.  
You'll find tools and resources to improve your coaching at the elementary, high school or club level, and have the opportunity to connect with and learn from fellow coaches from throughout the Lower Mainland. 
This year's theme is Coaching to Support the Whole Athlete, and is in partnership with Elevate Ultimate Academy, an organization passionate about growing the sport they love. Sessions cover topics like practice and season planning, drills, teacher-specific coaching, and higher-level tactics, and are led by some of the top ultimate coaches and athletes in the country. Presenters include Candice Chan (Traffic/UBC), Dave Stelk (Misfit), Shannon Seid (Vortex), and more! 
Registration is already open. The $55 registration fee includes lunch and awesome swag from conference sponsors. Coaches who are looking for national certification can also sign up for an NCCP Training Course the next day on Sunday, March 1.
Read more about the conference on our VUCC page or register now.