Posted by Youth Marketing on September 29, 2017 9:22 am
The summer of 2017 was an exciting one for youth ultimate in British Columbia, and exciting for the VUL, in particular. This year, the storied Vortex program based in Surrey joined the VUL family. Vortex was formed in 2006 – a year before Misfit – and fielded eight teams this summer. Together with Misfit's eleven teams the VUL supported a whopping 19 youth teams this summer! The youth ultimate scene in British Columbia has only grown stronger with new programs and teams cropping up every year.
For those unfamiliar with youth club teams, here's a little primer. Summer club ultimate begins right as the high school season ends; it runs from late Ma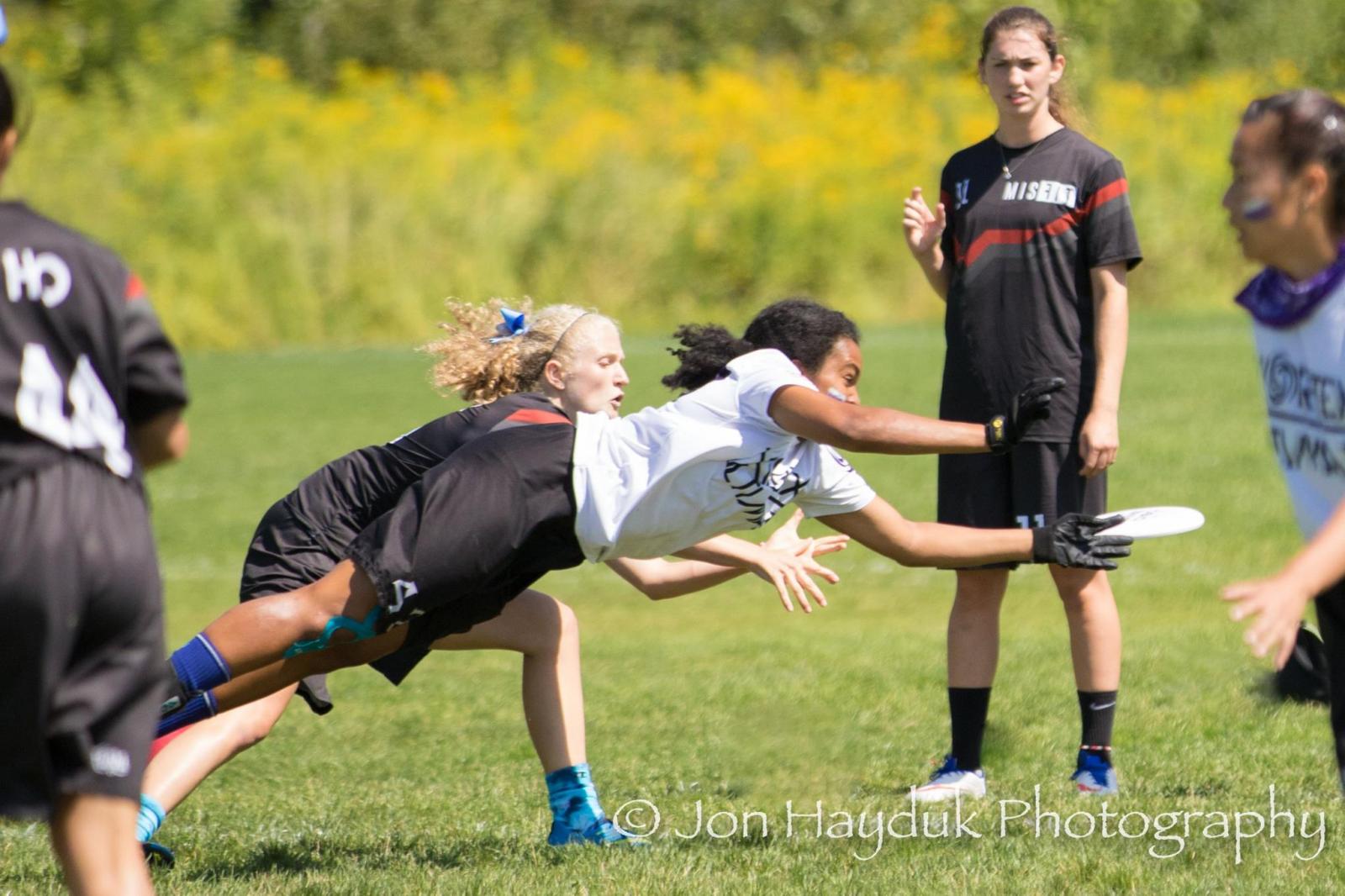 y until early August, culminating in the Canadian Ultimate Championships. Over the past few years, two tiers of teams have emerged: touring (teams aiming to compete at nationals) and regional (teams who compete only at the BC championships). Both Misfit and Vortex had teams in both categories; the demand for youth ultimate teams is so high, that the true difficulty is not fielding teams, but, rather, finding enough coaches and chaperones to meet the demand!
The top teams from each program, Misfit and Vortex, have long had a strong rivalry, especially in the women's division. They have faced each other in many championship games – both provincial and national. This year was no different, as Vortex was the only team to score double digits on the reigning national champions, Misfit. That game, the provincial final, was one of the most exciting of the season. Vortex came back from a 9-3 point deficit to force double game point on Misfit. After a long, back and forth universe point, Misfit eked out the win. After that game, there was a strong belief that these two teams would meet each other in the CUC final. However, this wasn't to be, as the two teams met in the semifinals where Misfit was victorious. They went on to capture their second straight national championship, with a 15-5 win over Toronto Toro.  
On the open side, Misfit and Vortex had similar results at CUCs, with Misfit finishing a few places higher (7th) and Vortex taking home 9th. Perhaps the most exciting story to come out of the open division were the results of Rolling Thunder, seeded 16th going into the tournament. They finished 11th – their highest ever result at CUCs.
To quote Alex Lam, Misfit program coordinator, this summer was "great Frisbee all around", and we're already looking forward to next year! And to quote Chris Wakelin, Vortex lead coordinator, "the VUL experience was a good one, and we're certainly looking forwards to another good year in 2018!"
Image: Misfit + Vortex in the 2017 CUC Semifinal. Photo by Jon Hayduk 
*Article was updated October 11, 2017*