Posted by Kristine on March 31, 2021 5:14 pm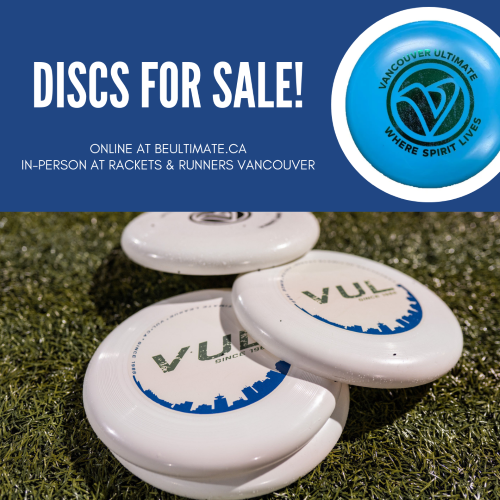 Since March 11, provincial guidelines have allowed British Columbians to gather outside in groups of up to 10 people.
With the new guidelines in place, you might want to meet a friend outside to throw the disc around or play some disc golf!
Connect with VUL'ers
Adult team sports are still suspended (we'll let you know when that changes), but we encourage you to enjoy the grass under your feet and the fresh air and sunshine.
Consider joining our Disc Golf Facebook group to connect with other VUL players who like disc golf (and for more general updates and disc-related fun, join our VUL Facebook page).
Pick Up a New Disc
Would a new piece of plastic inspire you to get outdoors? We sell both VUL Ultimate discs and a new VUL midrange Disc Golf disc (Innova Shark).
You can buy them online through our partner BE Ultimate (along with other VUL merch) or in person at Rackets & Runners in Vancouver.
Stay Safe
Remember to maintain 3m physical distance at all times. Dr. Bonnie Henry also asks that people stick to the same group of 10 rather than meet with several different groups.
Have fun!