Posted by League Manager on April 12, 2019 10:23 am
This article outlines some planned changes to game timing for Summer League 2019. 
From our annual Summer survey, we know many players aren't satisfied with start times for games. This year we're introducing a number of changes to make a difference, and we want feedback from captains on these changes before we finalize them. Final plans will be presented at Ultimate Day on April 27. 
Goals & Changes
Our goal is to provide clearer expectations, guidelines, and mechanisms for game timing to reduce confusion and frustration arising from different expectations and late starts. We propose to do this through the following:
Clearly communicate guidelines for game timing.
Change start times to be when games are expected to start, not when our permits start (see Start Time article)
Introduce clear signals to start & end games with a new "timekeeper" duty for Rules Gurus.
Offer incentives:

recognition for teams who are repeatedly on time
consequences for teams who are repeatedly late.
New Responsibility
We are looking to add timekeepers to the league without adding additional costs to teams. To do so, we are looking to Rules Gurus for help! We'll ask Guru's to do the following:
Connect with the other team's Guru 15 minutes before game time to determine who will make the signals for the game.
Make a clear signal 5 minutes before game time.

Captains should then gather their teams to be ready to Pull at game time.

Signal again at the hard-cap time if the game is not complete by then.
For the signals, we've ordered fancy VUL whistles for all Gurus, but they can use another means if they choose. 
We'll provide guidelines to Guru's via email, host a Q&A session at Ultimate Day, and provide updates during the season.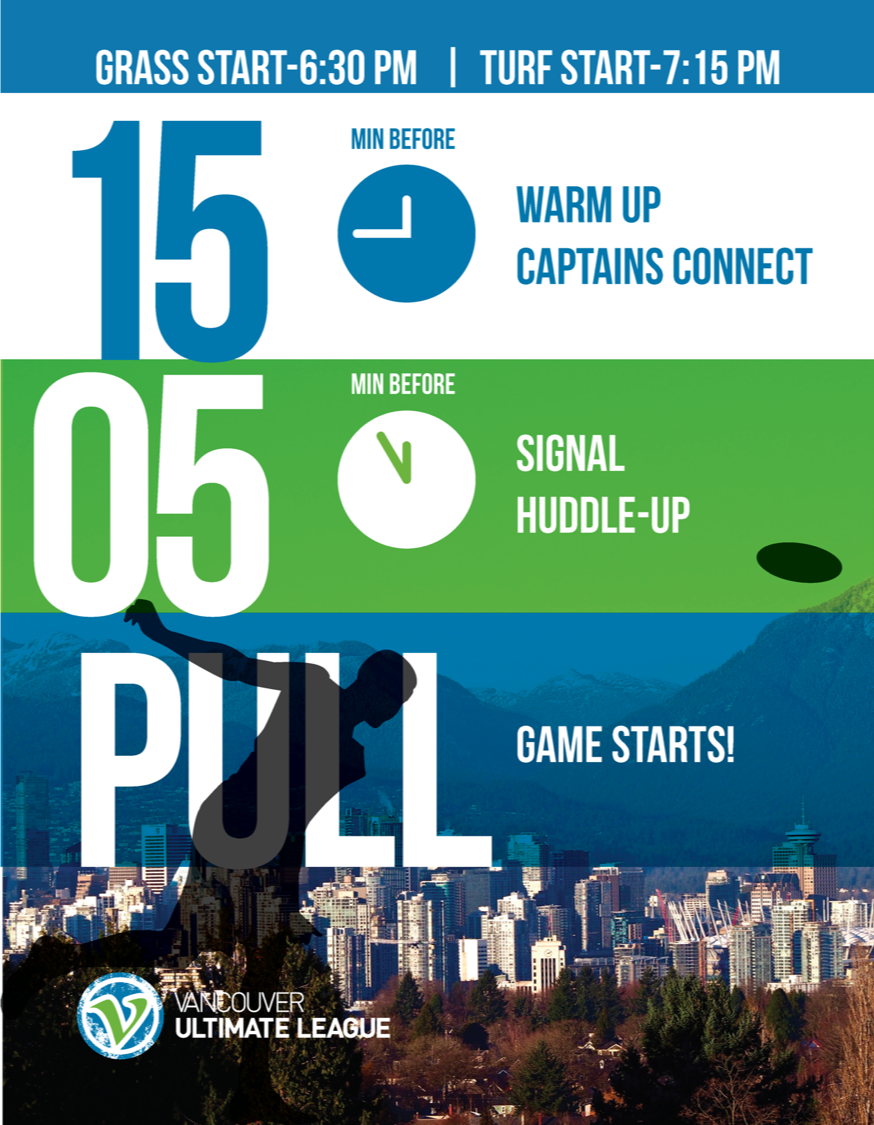 Game Timing
Games will be 70 minutes long during most of the season. Games in early May and August will be slightly shorter due to early sunset.
|   | Grass | Turf |
| --- | --- | --- |
| Arrive & cleat-up | by 6:15 pm   | by 7:00 pm   |
| Warmup, Captains & Gurus connect   | 6:15 | 7:00 |
| Start signal | 6:25 | 7:10 |
| START | 6:30 | 7:15 |
| Hard-cap signal | 7:35 | 8:20 |
| END (approximate) | 7:40 | 8:25 |
| Time between games * | 15 min | 15 min |
| Start signal | 7:50 | 8:35 |
| START | 7:55 | 8:40 |
| Hard-cap signal | 9:00 | 9:45 |
| END (approximate) | 9:05 | 9:50 |
* For spirit game, moving fields, game signal, and pull. 
Game Reports
There will be a new question in game reports: "When was the other team was ready to play?" The options for answers will be:
On time
1-5 minutes after start
5-10 minutes after start
> 10 minutes after start
A default occurs if the other team isn't ready after 30 minutes (or doesn't show at all).
Incentives
Teams with great timeliness will be recognized and rewarded.
If a team is 5-10 minutes late, they will receive a Caution. Many cautions will lead to a follow-up from VUL staff.
If a team is more than 10 minutes late, they will receive a Warning. After 3 warnings there will be a $50 fine. 
The Default fee will increase to $50 AND be given to the other team.
The website will show teams their stats (# of weeks on time, cautions, warnings) so they can keep track. 
Appeals
Teams can appeal a single Warning or a Fine, and the League Manager can cancel them. Sample considerations include:
The team has a good record but ran into issues beyond their control that night (e.g. traffic accident)
Another user group was late clearing the field.
The captain is doing their best but players are not cooperating.
The captain is unable to collect money from their team for some reason.
Feedback
Captains & Rules Gurus: Please email feedback@vul.ca by Sunday April 21 to share any thoughts on these changes. We're looking for your feedback and support to help us improve games for everyone!