Posted by Kristine on February 19, 2020 1:16 pm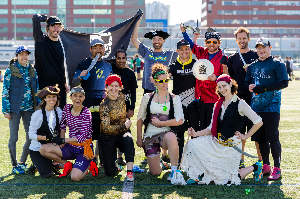 Celebrate the changing of the seasons and get into shape for league with our 5-on-5 Spring Equinox tournament, taking place March 21-22 at Trillium Park in Vancouver.
This is one of our favourite ways to warm up for tourney season: play 4 to 5 games on Saturday, enjoy a BBQ with all your friends, and then SLEEP IN on Sunday with the remainder of your games in the late morning and afternoon.
We'll find out who the best competitive and recreational teams are in Vancouver, and who is the most spirited. Trophies are awarded to:
the top competitive team
the top rec team
the most spirited team (the BIGGEST trophy)
We also have two $100 gift cards from our friends at The London Pub for the most spirited teams on Saturday!
Plus, all players get 15% off food either day at The London Pub and a pitcher of beer for every 5 players!
The fee is $400 per team, and registration is now open until March 15, or until it fills up! Read more on the Spring Equinox Tournament page or register now.