Posted by Executive Director on January 23, 2020 4:19 pm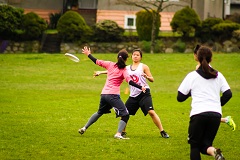 Do you prefer grass fields or daytime ultimate? Winter Hat is a wonderful league because it's played on soft grass and is more casual than some of our other leagues.
You'll get exercise and your ulti fix on a Saturday morning, and then feel pretty good for the rest of your weekend!
Same Fun Format
We're using the same 5-on-5 format that we introduced last year:
5-on-5 is very popular because it's fast-paced and fun
Grass is a wonderful surface to play on and is easier on the body
Shorter games which means 2 hours of solid exercise - then the rest of your day is free!
The league has a nice community vibe. Some players continue to play together in Summer League.
You don't need a team to register. Sign up as a single or with 1-2 friends!
League Info
You'll play on Saturday mornings from 10 am - 12 pm at either Oak Meadows or Winona parks. The league runs for 9 weeks from Feb 1 - Mar 29.  
Registration is open until Sunday January 26! Read more on the Winter Hat page or register now. 
Share the news: tell your friends who might want to try Winter Hat!