Posted by Craig on January 11, 2019 10:20 am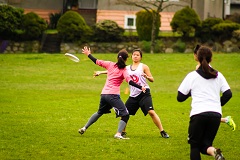 It's easy to lose your fitness in the winter if you aren't playing ultimate. Winter Hat is a wonderful league because it's on soft grass and is more casual than some of our other leagues.
You'll get your exercise and ulti fix on a Saturday morning and then feel pretty good about launching into the rest of your weekend.
Exciting New Changes to Winter Hat
We're tweaking the league this to make it a 5-on-5 grass league for a few reasons:
5-on-5 is very popular because it's fast-paced and fun
Grass is a wonderful surface to play on and is easier on the body
Shorter games which means 2 hours of solid Saturday morning exercise and then the rest of your weekend free
You don't need a team to register. Sign up as a single or with 1-2 friends!
League Info
You'll play on Saturday mornings from 10 am-12 pm at centrally located grass fields in Vancouver. The league runs for 9 weeks from Feb 2– Mar 30 (with free pick up on Jan 26!).
Registration is NOW open! Read more on the Winter Hat page, or register now!
Share the news: share with your friends who might want to try Winter Hat!