Posted by Craig on February 12, 2019 11:09 am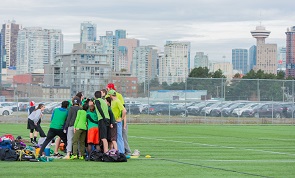 Who are the best 5-on-5 competitive and rec teams in Vancouver? Who's the most spirited? The people want to know… And trophies shall be awarded… Here are the prizes we're offering up:
Top Competitive Team - A good size trophy
Top Rec Team - A good size trophy
Most Spirited Team - The BIGGEST trophy
Most Spirited Saturday Teams  - Two prizes of $100 towards your Saturday Night team party (last year most teams had parties and told us this was their preference, so we wanted to find a way to encourage and support more of this!)
Join us at Trillium Park on Mar 16-17 for this fun and spirited tourney that includes a BBQ and Sunday sleep in! The perfect way to start getting into tourney shape for summer while hanging with your ulti friends, or making new ones. 
The cost is as cheap as it gets for a tournament - only $350 per team!
Plus, tournament go-ers get 15% off food all weekend at London Pub AND a pitcher of beer for every 5 players!