Posted by Marketing Manager on September 20, 2019 11:50 am
This summer, we introduced new game time guidelines in order to improve the challenge of getting games to start in time.
We're happy to report we've seen some progress! Each year in our summer league survey, we ask about players' satisfaction with games starting on time. See the chart below for how 2019 was different (indicated in red).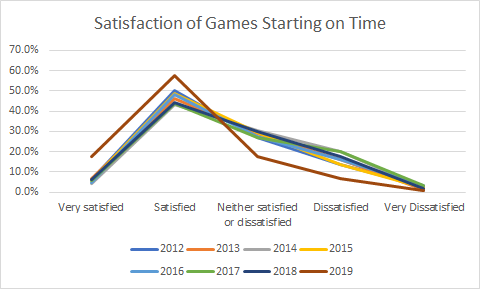 There's still progress to be made, but we're glad to see the changes to game start times making a difference. 
Top Timeliness Teams from Summer League
Of all 228 teams in Summer League, the team that had the best result for timeliness was.....
Sky Hoes, from Monday Div 1!
We wanted to learn more about the team and decided to feature them with the following video, produced by Keane Luong. 
Sky Hoes also received a $100 Clubhouse Gift Card as a prize, alongside the runner-up team, Sideways Shoe. 
Congrats to both teams and thanks to all players for making the effort to be more timely this summer.