Posted by Craig on June 11, 2015 10:36 pm
Tournaments are a great way to improve your skills, form stronger bonds with teammates and make new friends. More importantly, they are a ton of fun! Tournaments are what get a lot of players hooked on the sport and community. There are a few in Vancouver, but several occur in other ultimate communities around the province.
Here's a list of tourneys for Summer 2015. If you are the organizer of a tournament you'd like to be included in this article, get in touch with our Marketing Manager.
---
Date
Wednesday, July 1 10am - 5pm
Location
Vancouver – Winona Park
Format
Starts as 8 on 8 (4-4 coed). Every time your team scores a point, you lose a player. The first team to score with only two people on the field wins!
Info
Vancouver's favourite charity tournament, entering their fourteenth year! One day, four games minimum, field food, lots of prizes and more. Teams of all skill levels are welcome, and all proceeds go to charities chosen by the winners and spirit winners! This is a VUL partnered event.
Registration
$240 per team. Individual registration is not possible, but we have a sub list if you want to try to be picked up by a team.The registration deadline is June 16th and the team pre-payment deadline is June 19th. You can register or get more info on our registration page.
Website
http://elimination8s.blogspot.ca
---
Dates
July 25-26
Location
Vancouver – Winona Park
Format
7 on 7. 4:3 or 3:4 m/f ratio. A true hat tournament where teams are made randomly by drawing names from a hat!
Info
Play in the 23nd annual Babes 'N Hats - make some new friends while playing some fun ultimate. Registration includes at least 6 games, a jersey, Sunday BBQ, onsite trainer (from Insync Physio), and the chance to play in front of crowd in the finals!  This is the official VUL Summer Tournament.
Registration
$25 for a single and $40 for a male-female duo in advance. Register on the Babes 'N Hats website.
Website
---
Dates
July 25-26
Location
Nelson, BC
Format
7 on 7 (4m:3f).
Info
The Nelson Ultimate Frisbee Association will be hosting its popular waterfront tournament again the last weekend of July in gorgeous Nelson, BC. Bids will be first come first serve, but with some preference placed on Interior and returning teams. The intended level is A- to C+ with a focus on spirit, good times and new Ultimate communities. Come take a mid-summer break with us in the Kootenays.
Registration
Email: nelsonultimatefrisbee@gmail.com
Website
---
Dates
August 22-23
Location
McArthur Island Sports Complex. Kamloops BC
Format
7 on 7 Mixed. A, B, and Spirit Divisions
Info
In its 13th year, The Big Thirst is set once again to be hosted in the beautiful Tournament Capital of Canada: Kamloops BC. With the fields set next to the river for a post-games soak and the classic party returning, you won't want to miss out on this tournament!
Registration
Register at http://kamloopsultimateleague.com/
Website
http://kamloopsultimateleague.com/
https://www.facebook.com/KamloopsBigThirst
---
Dates
Aug 29-30
Location
Richmond, BC
Format
5 on 5 (3m:2f). A, B and C pool. The goal is for every team to have as many balanced games as possible so pool formats and schedule is determined after registration ends.  
Info
Building on the success of Whistler 5 on 5 comes The Great Vancouver 5 on 5. You can expect "same same but different" compared to our Whistler event....The same same includes minimum 6 games of fun ulty, lunches, and an awesome spread of field food. The different is that instead of every player getting a disc, every player will get to experience "Carnival Central" - think of a few giant inflatable games or obstacle courses plus frickets, ladder ball, bocce ball and whatever games YOU bring to add to the mix. 
You'll have a blast at this tourney both on and off the field – the games, the "carnival", and the parties will not disappoint.
Registration
See the registration page of the website for full details. Early Registration runs June 15 - July 6. Regular Registration runs July 7 - August 7. 
Website
---
Dates
Monday, Sept 7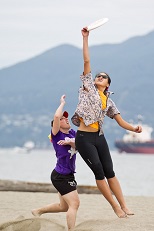 Location
Vancouver - Spanish Banks West
Format
4 on 4 beach rules. For more info see the rules on the BULA website
Info
And you thought grass ultimate was fun.....It's tougher to run in the sand, but laying out is oh so much fun. Registration fee includes at least 4 games and a BBQ!
Registration
Details have yet to be set, but expect registration to open in late June or early July.
Website
All the info will be posted on the VUL website as the date nears closer!