Posted by Craig on August 21, 2019 10:39 am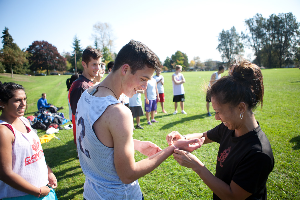 This year we introduced Spirit Standouts in place of the old Spirit Ties. 
After each game both teams were encouraged to select one player on the opposing team as the Spirit Standout for the game. Each week during the summer, we did a random prize draw for that week. You can see those winners on our Spirit Standout Page.
Since captains reported the Spirit Standouts as part of their game reports, we have some fun facts to share:
1647 different players were recognized. That works out to 43% of players in Summer League!
249 players were recognized more than once. That's 6.5% of all players in Summer League. 
228 teams had players who were recognized. That's every team!
Congrats to everyone who was named a Spirit Standout this year! Your spirited play makes this sport and league what it is. 
The Cream of the Crop
We'd like to recognize the players who surfaced to the very top...
Most total standouts (across multiple teams):
•    Mika Campbell Nishimura – 14 standouts!
•    Christina Cheng – 13 standouts!
•    Zane Chia – 11 standouts!
Most standouts on their team:
•    Christina Cheng from Flic Fam – 9 standouts!
•    Ben Klein from Dim Sum Warriors - 9 standouts!
Christina, Ben, Mika and Zane will each receive a $50 gift card to MEC for their outstanding display of consistent Spirit. 
The Recognition List
We'd like to also recognize all the players who had at least 5 or more total standout recognitions... 
7+ recognitions:
Alan Baggish
Alice Zhao
Ben 'Fear Sum' Klein
Brian Mihai
Christina Cheng
Christine Vuong
Colin Yen
Daphne Peng
Dominick Yeung
Emily Chong
Evan Schell
Jennifer Gray
Jon Chan
Katherine Go
Katrina Cheung
Kento Mukai
Kevin Yeh
Mandy Wong
Melanie Clark
Mika Campbell Nishimura
Nicole Yipp
Rebekah Manning
Roxanne Jong
Sarah Lidster
Sarah Truong
Sawyer Payne
Shannon Seid
Shirvin Lee
Stefanie Wong
Stephenie Ho
Tammy Do
Tina Yu
Zane Chia
5-6 recognitions:
Adelena Leon
Allison Lambert
Anamaria Morris
Andrea Lai
Andrew Pringle
Arthur Banh
bonnie leung
Brandon Wenn
Brennan S
Carlos k.s. I
Catherine Prueitt
Cher Choi
Cheryl Maño
Chris Lee
Conrad Gmoser
Cory Farquharson
crystal han
Dana Hoffmann
David Nakai
Diana Chin
Edward Leung
Edward Phillips
Ellena Lawrence
Emily Ip
Gloria Kong
Holly Steinson
Ivan Lee
J LIMA
Jade Shiller
Jed Fernandez
Jennifer Morse
Jessica Huang
Jillian Reardon
Jodom Konuko
Jonah Lee-Ash
Joshua  Abad
Julia Wu
Justin Wu
Karen  Hu
Karen Ip
Kathryn Hellman
Kathy Hong
Kelsey Lee
Kevin Bao
Kevin L
Lana Newton
Leah Farquharson
Liann  Badiong
Lisa Miao
Lucy Yuan
Megan Fann
Megan Wong
Michelle Yuen
Nathan Lau
Nathan Mach
Nelson Than
Nicolaas Rupprecht
Nicole  Lau
Peter McCann
Rachel Leung
Raj Khungorey
Richard Tam
Ruth Landicho
Ryan Uliana
Sarah Chapdelaine
Thomas A.D.
Umaima Baig
Wesley  Chan
Winnie Woo