Posted by Kristine on March 4, 2020 12:40 pm
UPDATE: Our third annual Trivia Bash has been cancelled due to COVID-19. Hopefully we can host it at a later date this year - we'll be sure to let you know!
---
Last year we had more than 100 people gather to laugh and stretch their collective intellect at our annual Trivia Bash. It was such a rip-roaring success that we're bringing it back to the London Pub again!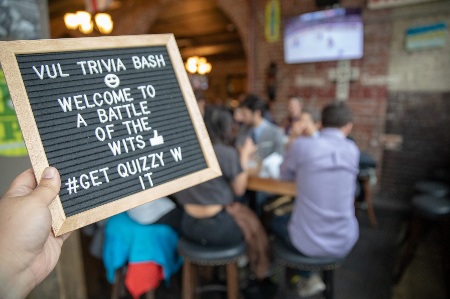 Join us for the third annual trivia event on Saturday, April 18 from 4-7 pm at the London Pub (700 Main St at Georgia).
Let's be clear: we're here to have a good time, not make you feel like you should have paid more attention in high school algebra class. We'll mix up the questions with props, games and audio or visual cues!
Prizes for Winners and Spirit
We've got some sweeeeet prizes, for both the top and runner-up teams AND the most spirited teams (prizes will be announced soon!).
Spirit is as you interpret it - so whatever that is, bring your spirit "A" game. Last year there were several clever team names and even costumes. Get creative and have fun with it! Take a look at photos from last year's event on Facebook.
2020 Registration
Put together a team of 4-8 teammates and friends. Team registration costs only $40 per team and includes 1 pitcher of beer per team. If you aren't a beer drinker, indicate so during registration and we'll offer you something else. Finally, some perks other than turf burn.
Individuals without a team are encouraged to post on the Personals forum to find others seeking a team.
Registration opens on Friday, March 13. If it doesn't fill up first (and in past years, it's filled up quickly!) the last day to register will be April 11.