Posted by Shanna on June 15, 2021 5:38 pm
Please join us in welcoming Kurtis Stewart as our new Operations Manager!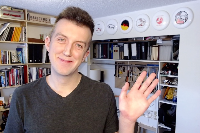 Kurtis is no stranger to the world of ultimate or the VUL (18 years of experience!). Playing various levels of competitive ultimate from High School, UBC, competitive touring, with a sprinkling of league play, mentoring and coaching; Kurtis has seen all sides of the sport of ultimate. 
Kurtis is excited to bring his vast knowledge of the sport, his experience from customer service, teaching and project management to his new role as the VUL's Operations Manager. His desire to always keep learning, listening to the community and discovering how things work will be an asset to the VUL as we navigate our return to play. 
Kurtis' dedication to an inclusive organization, his desire for a safe return to ultimate will help usher in an exciting new summer season. 
Please join me in welcoming him to the VUL! You can reach Kurtis at Kurtis.Stewart@vul.ca