The Art Hawkins Great Canadian Ultimate Game (AHGCUG) is a charity ultimate game played in more than 30 communities across Canada. The event raises funds for ultimate programs that support the accessibility and development of ultimate and spirit of the game in Canada for children, youth and those with a disability, especially in economically disadvantaged communities. Here's a video that shows the type of projects that get funding:
2018 Event Info
June 9 from 3-4 pm at Jericho Field. 
The event will be hosted within the VUL Super Clinic & BBQ. Before the Art Hawkins game, we encourage you participate in the Super Clinic from 12-3pm. After the Art Hawkins game, stick around for a BBQ and hang-out with casual disc games like frickets and double-disc court. 
How to participate
2. Bring a red and white jersey
3. Bring a donation to the field or via paypal below (sliding scale starting at $5)
Donations
We encourage you to make your donation now, before the event:
About Art Hawkins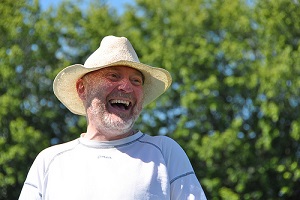 Art Hawkins was an important and respected member of the VUL community for almost 20 years until his all too early passing in 2010.
Art started playing Ultimate in Vancouver in 1991 and was involved with more VUL teams as a player, coach or captain than can be named. Beyond the VUL, Art represented Canada at the 1999 and 2002 World Ultimate Club Championships and won Gold in the Masters Division at the 2000 Canadian Championships.
During the 2000s Art's involvement with the sport off the field grew substantially. He was a member of the VULS Board of Directors, and then in 2008 was named Executive Director. As ED, he was involved in strengthening the league's clinic and mentoring programs, and increasing focus on junior development.
Art was a strong supporter of charities and created and ran the annual Elimination 8's tournament, an event that continues to generate funds for local Vancouver charities to this day. Art worked with Ultimate Canada to create the Great Canadian Ultimate Game.
In 2011 Ultimate Canada honoured his memory by naming this day long game and celebration The Art Hawkins Great Canadian Ultimate Game.