Welcome to Canyon! 
With decades of combined experience playing and coaching, the Canyon coordinators and coaches are local, passionate Ultimate players whose goal is to grow the sport of Ultimate, especially here on the North Shore. Our primary goal is to offer programming for those that reside on the North Shore, but historically have not been able to participate in programs due to location barriers. As such, the program aims to have representation from all high schools from local school districts (SD44, SD45, and SD46) to help further build the Ultimate community on the North Shore.
The Fall season runs from mid-September to late-December, including practices and scrimmages. This Fall, we'll be offering team-based programs like the summer, and we cannot wait to see you on the field with us. If there are any questions about any aspects of our program, please feel free to reach out to us at canyon@vul.ca.
---
2023 Programs 
Follow the link for complete Fall 2023 programs offered by Canyon, located on the North Shore: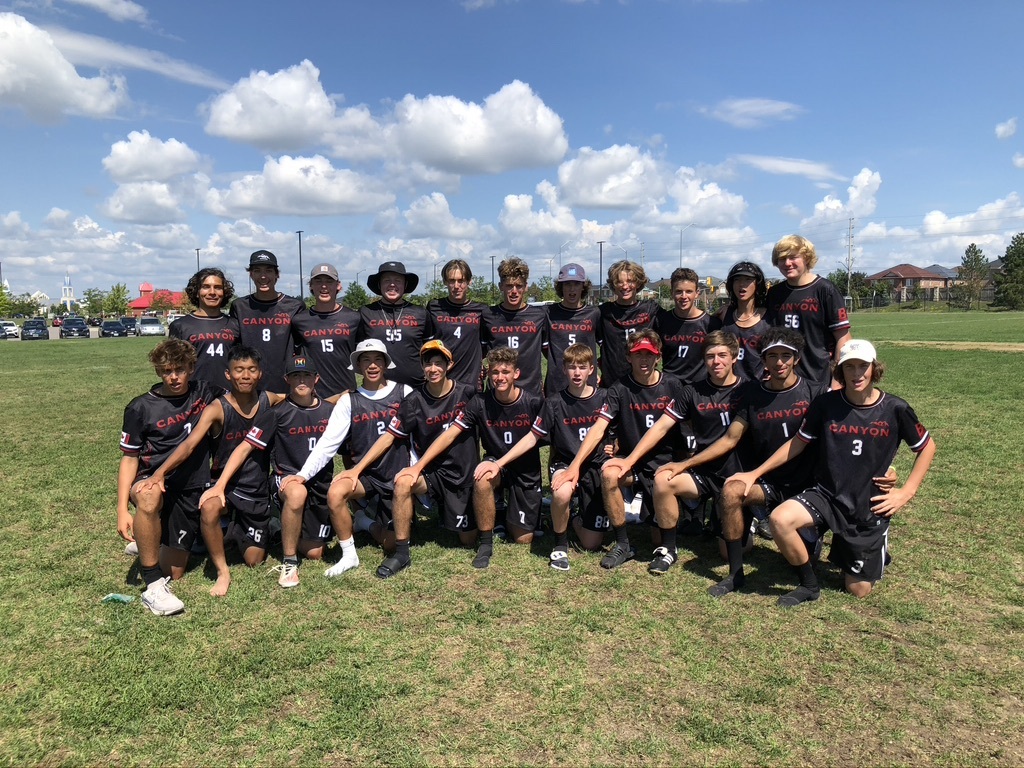 ---
Fall Teams (Advanced & Intermediate) 
Overview 
This Fall, we'll be offering team-based programs like the summer, with each team looking to compete against other teams during the Fall season.
Each team will have dedicated coaches, and there is no tryout process required. Teams will practice two-times per week for 13-weeks on Wednesday (5:00pm - 7:00pm) at Brooksbank Park and Saturday (6:30pm - 8:30pm) at Kirkstone field.
Format
Single-gender; team-based program

1 Women's team
2 Open teams

Players & parents will self-report their skill-level preference for team selection
Important Dates:
| | |
| --- | --- |
| August 22 | Registration Opens |
| September 12 | Registration Closes |
| September 16 | Program Starts |
| December 16 | Program Finish |
---
Fall 5-on-5 Turf League 
Overview
For those that are registered in our teams-based program, there is the opportunity to play in the Fall 5-on-5 Turf League! The league runs on Sunday evenings, 6:00 - 8:00pm at Empire.
If you are interested in playing in this league, please be sure to indicate your interest when signing up for our program as there are limited spots available!
---
Fees & Registration 
Fees
Fees include any taxes, fields, facilities, tournaments, equipment, uniforms, coaches, chaperones, administration, VUL membership, BCU membership, UC membership, and UC registration the program may require.
If you have any questions, contact the Canyon coordinators via canyon@vul.ca. 
Fee for the 2023 Fall season are -
2023 Fall Teams (Early Bird) - $300.00, valid from 22nd August to 8th September 2023
2023 Fall Teams - $375.00, from 9th September 2023 until registration closes.
How to Register - Youth Programs
Complete these steps to register:
Make sure you are logged into your VUL account as all registration is done online, with payment accepted by credit card, Visa Debit, or e-transfer.
Make sure to choose the right location when options are presented.
If a player registers themselves, they must also get Parental Consent. Emails are sent to the player and parent/guardian with instructions. 
If you have a question, check out our Youth FAQ for answers. If you still need help, email youth@vul.ca
---
Canyon Coordinator Team 
Our instructors are knowledgeable and passionate and are ready to pass on everything they know to our up-and-coming players. Our Canyon coordinators would like to introduce themselves so you can get to know them a bit better! 
Cody Hubbard
I've been a part of the junior club Ultimate since 2015, where I worked each summer as a coach through Misfit Ultimate. As a coordinator of Canyon Ultimate, I hope to improve the growth and development of players in our local area, as well as create an inclusive culture that players are proud to be a part of. 
Katie Wong
I am a part of this program because I love Ultimate and want to see the sport grow in the right direction on the North Shore. Bringing the spirit of the game to the forefront of the North Shore program is awesome because it shows that teams can resolve conflicts and situations amongst each other. In addition, it brings another level of accountability to yourself and your team. 
Kristy So
My favourite part about Ultimate is how anyone can have fun despite their skill level. The Spirit of the game is important to creating and being part of an inclusive community! As a coordinator, I would like to continue to foster these uplifting and competitive environments, on and off the field. Not only this, but contribute to cultivating respectful programs and players!
Duncan Segers
I became a part of Canyon Ultimate because I want to help promote Ultimate frisbee among the youth on the North Shore. Growing up in North Vancouver, I always wanted there to be a program like Canyon which allowed me to play closer to home. I've played Ultimate for over a decade, and I look forward to helping the sport grow and having more kids fall in love with this great sport!