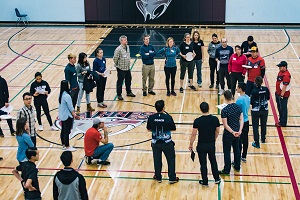 We are excited to announce that the BC Coaching Conference is back! Join the VUL and BCU as we host this event on Saturday, April 1st, and Sunday, April 2nd, at St. Thomas More Collegiate. 
This event is jam-packed with classroom sessions and networking opportunities with other coaches. As we return to sports this year, our conference will focus on the growth and development of coaches in our community. 
We will run an NCCP Comp-Intro course with the BC Coaching Conference this year! You can sign up for the BC Coaching Conference or the NCCP course. The NCCP course will run about 14 hours between the two days. 
Classroom Sessions:
Safe Sport Tools
Growth and Development Ultimate programs in Schools
Volunteer Structure for Club Teams
Team Canada Coaching Panel - Skills we look for 
Coaches, teachers, and instructors from Greater Vancouver and beyond are welcome. This event is a great place to meet, connect, learn from, and share your experiences with other coaches. 
---
2023 Information
Date: Saturday, April 1st & Sunday, April 2nd, 2023
Time: 9:00 a.m. to 4:30 p.m.
Location: St. Thomas More Collegiate, Burnaby BC 
Address: 7450 12th Ave, Burnaby, BC 
Cost: $60.00/person
Registration Closes: March 31st, 2023
If you're a coach or instructor in the VUL and need help affording the full fee, contact us at youth@vul.ca for assistance. 
Registration
Registration is now open!