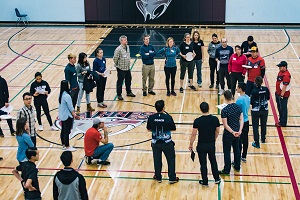 Join us for the annual Vancouver Ultimate Coaching Conference on Saturday, March 2, 2019 at Stratford Hall School.
You also have the option of also joining us on Sunday, March 3 for an NCCP coaching course. 
Format & Audience
There will be two tracks of sessions during the day - one that caters towards beginner coaches and one for intermediate/advanced coaches. Both tracks will have engaging topics that will be relevant for:
Elementary School coaches
High School coaches
Club Team coaches (Youth and Adults)
VUL League Mentors and Clinic Instructors 
Brand new coaches who want to start but aren't sure where yet!
Coaches, teachers, and instructors from across the Greater Vancouver and beyond are welcome. This is a great place to meet, connect with, learn from, and share your experiences with other coaches. 
Partners
We are co-hosting with Elevate Academy. They are passionate about youth ultimate, coach development, and Spirit of the Game.
Stratford Hall will be hosting the event.
If you'd like to be involved as a partner, please contact Katie Berezan via katie.berezan@vul.ca.
Sessions & Schedule 
The conference will run from 8:30am to 5pm. There are two streams: Coach to Compete and Coaching Fundamentals
 

Coach to Compete

Coaching Fundamentals

8:30 - 8:45

Coffee & Registration

8:45 - 9:00

Welcome

9:00 - 9:30

Morning Energizer

with Dance PL3Y 

9:30 - 10:25

Team Culture, The Biggest Game Changer

with Heather Ann Brauer (GUM)

10:35 - 11:30

Use the Field to Your Advantage - The Importance of Spacing

 

with Matt Berezan

Season Planning from Beginner to Elite

with Troë Weston

11:35 - 12:30

Leading an Effective Practice

with Reanne Bowlby

Tips for Teaching Throwing

with Jennifer Nicholls

12:30 - 1:15

LUNCH (provided)

1:15 - 2:00

Inclusion Workshop

with Rain City Ultimate Club

2:05 - 3:00

Injury Management

with Stephen Mogatas

Making your practices FUN!

with Elevate's LIT's

3:10 - 4:05

Drills & Games Toolkit Building

with Elevate Ultimate

4:10 - 5:00

Expert Panel
Presenter Bios
To learn more about the presenters and sessions, read their bios!
Optional Sunday NCCP Training
Designed for participants 16+ who work with new/entry level players. Teaching basic throws, the role of the coach, planning practices, ethical issues around coaching and the needs of the athletes, will also be covered in this 1-day workshop that takes place both in the classroom and on the field or gym. The end result is that you'll be a trained NCCP Community Coach through the National Coach Certification Program. 
Please note that the NCCP Community Coach course will be at a different site. Multi-Purpose Room in Kits Community Center, 2690 Larch Street, Vancouver. Start time is 9 am, and expect to finish by 5 pm.
Fees
Saturday Conference: $55 (includes lunch and coffee)
Sunday NCCP Training: $60
If you're a coach or instructor in the VUL and are unable to afford the full fee, contact us for assistance. Email katie.berezan@vul.ca
Registration
Registration is closed for 2019.
To receive updates about the event, subscribe to our Conference Interest mailing list.
We hope to see you there!