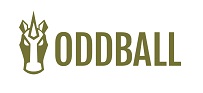 This local company wants you to look and feel good on the field. Oddball makes jersey ordering easy - they are super friendly and fast!
Oddball prints digitally, so you can have as many colours on your jersey as you like. Even sublimated jerseys are an option which means you can print absolutely anywhere on the jersey. These jerseys look really slick since the dye is set into the fabric.
VUL Jersey Deal
The following include FREE name OR number drops, and no set up fees:
$24 each for standard cotton shirts 
$30 each for standard technical shirts
Other popular options include:
$43 for sublimated prints - This is a steal of a deal! *
$56 for reversible tanks - full colour print on both sides 
Inquire with Oddball about the cost of name and number drops for reversible and sublimated jerseys.
All prices include garment and printing. Minimum initial order of 12.
Youth teams qualify for special pricing on sublimated jerseys - $38 each.
Why Oddball?
Turnaround: 3-5 days for technical or cotton, 2 weeks for sublimated garments
Repeat orders: Orders as small as one shirt can be printed when new players join your team. Your artwork will be kept on file.
Digital Printing: A high quality print that allows you to use as many colors as you like - great for any logo, especially complex designs and photographs. Options include direct to garment for cotton based garments or vinyl transfer for technical garments
Eco-friendly: Compared to screen-printing, digital printing uses water-based inks, less water and no chemicals
Sublimation: Custom all over prints on premium technical fabric. Different style options to suit your needs and your artwork. Hats, bandanas, shorts, long sleeved shirts available… outfit the team from head to toe!
Garment: Both technical and cotton t-shirts available. For standard technical shirts: The Authentic T-Shirt Company, A4 or you can bring your own. Ask about cotton options. Samples can be viewed at the office.
Artwork Assistance: Talented Graphic Artists to help you achieve the vision you want if you need help. $30 per hour
Contact Info
http://www.oddballworkshop.com/contactus.php
Address: 280 East 5th Avenue (at Main Street- Entrance at the back of the building)
Phone: 604-874-7188