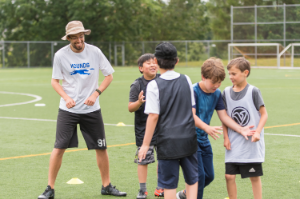 There are multiple opportunities to coach and support players in Vancouver and neighbouring cities. 
Working with Youth
Camp & Clinic Instructors
We offer multiple programs that aim to ensure youth to have fun learning to play! These include our week-long Day Camps for younger kids in the Summer and Spring Break, and our 8-week Skills programs that run in all seasons. Why not share your knowledge with the next generation?
If you're interested, read more about Day Camp Instructors, or contact youth@vul.ca for more info or to apply. Experienced teaching youth is desired. Applications are accepted year-round.
Club Team Coaches
The Misfit Program in Vancouver and Vortex program in the Fraser Valley are competitive club team programs for High School students. We need dozens of coaches each summer to lead, develop, and prepare teams for Provincial and National Championships. Read more about being a Misfit Coach or about being a Vortex coach. Applications are due by April each year.
School Coaches
Ultimate is thriving in Vancouver schools. Many high schools have teams already, others are looking to start teams, and elementary ultimate is growing fast. We help connect coaches with schools that need them. You don't need to be an elite player for all positions. If you are interested, read more about being a School Coach. The school leagues run from March to May, but you can apply at any time.
Working with Adults
Mentors
The Mentor Program helps new teams and captains learn about ultimate & spirit, develop new skills & strategies, and generally have a positive experience in their first few years in the VUL. If you'd like to share your knowledge and passion with others, read more about being Mentor. Applications are accepted year-round.
Camp & Clinic Instructors
We run short Skills Clinics at the start of every season, a 6-week Intermediate Bootcamp in the spring, and an 11-week Beginner Camp in the summer. If you're interested in teaching ultimate to adult players, contact lm@vul.ca today.
Competitive Club Coaching
The VUL sponsors Competitive Adult Club teams each summer. To contact teams directly, please see the list of active clubs. If you would like more general information about club coaching and opportunities please contact touring@vul.ca.