Status Update June 2020
All programs are cancelled until the end of June. Please see our Adult Summer Options article for the latest update.
We will update registration dates and open registration when we learn more. If you have any questions, please email Kristine at burnaby@vul.ca.
Please see our COVID article for more information and weekly updates. Let's hope the virus will be sufficiently contained so we can play this summer!
---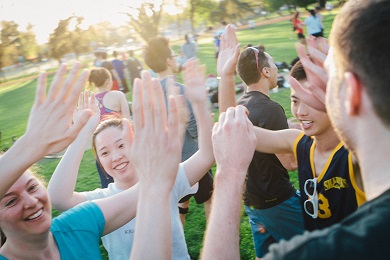 Play 5-on-5 and make new friends with this fun community Hat league, this year in New West!
For "Hat" leagues, players are assigned to teams as if their names were drawn from a hat. We do our best to ensure skill levels are balanced so games are as close as possible.
All games will be at Queens Park East turf. Permits are for 2 hours rather than 3 like the Vancouver summer league, so the format is 5-on-5 to maximize playing time instead of 7-on-7. 
2020 Playing Info
If you have any questions, contact the Burnaby/New West Coordinator, Kristine, via burnaby@vul.ca.
Important Dates for 2020
| | |
| --- | --- |
| TBD | Registration Opens |
| TBD | Registration Closes |
| TBD | Ultimate Day in Vancouver: workshops, clinics, BBQ |
| TBD | Free pick up at the field |
| TBD | Games start |
| August 18 | Games end |
2020 Fees
| | |
| --- | --- |
| Single | $62.50 |
| Duo (2 people) | $105.00 |
| Trio (3 people) | $157.50 |
For Duos and Trios at least one person must be women-matching.
How to register
Read the registration guidelines for Hat leagues, and then register online once registration opens.
Other Options
If this league doesn't work for you and you don't want to commute into Vancouver, see the Leagues page for other regional options.