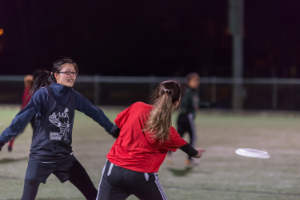 2021 Season Update: Parity will not happen in 2021, we will be offering a standard Hat League instead! 
Play friendly fast-paced 4 on 4 ultimate outside!
Exciting changes were made in 2019 to this fun community league to bring to up the fun level and bring more women-matching players into the mix. 
Parity is a fantasy league that you actually get to play in! If you like friendly competition and are looking to expand your ultimate community, this league might just be for you! 
Player stats (goals, assists, turnovers, etc) will be tracked each game and the stats will be submitted with the scores each week. Player values will increase or decrease depending on their stats. The captains (known in this league as GMs) will then get to trade players throughout the season to stay under a league enforced "salary cap". This inclusion of individual stat tracking and trading players makes for a fun community and balanced competition.
Games will be played 4-on-4 with 2:2 gender ratio at all times. The game will be played with the same rules as our fast-paced turf league, with the field size adjusted slightly; but still long enough for hucks!
We have added 1 extra week this year, so be aware that this league starts before other turf leagues. The organizers of this league are pumped to make this year a big hit. This is a unique league you won't want to miss!
What are people from last year saying about the league?
"I am really satisfied this league. I was glad to be able to play with a lot of players every week." 
"4-on-4 worked really well to open up the field and make for good gender parity."
"good to get to play with a lot of different people and get to know each other as teammates and as opponents."
"I thought the energy and community has been great."
"very fun competitive."
Playing Info
Note this is an adult league ideal for intermediate to advanced level players. If you are a high school student, see the Winter U19 Skills Program.
Important Dates for 2020
| | |
| --- | --- |
| December 5 | Registration Opens |
| January 3 | Registration Closes |
| January 5 | GM Meeting/Draft |
| January 7 | Games Start |
| March 3 | Games Finish |
2020 Fees
| | |
| --- | --- |
| Single Player | $95.00 |
| Duo (2 People)* | $170.00 |
For Duos, at least one person must be woman-matching. Single men-matching players are not guaranteed a spot in the league, please try and find a woman-matching player to ensure your spot.
*NOTE: When registering as a Duo for this league you are NOT guaranteed to be on the same team, but you will always be at the same location, so you can still travel together.
How to register
Read the registration guidelines for Hat leagues, and then register online once registration opens.
Refer a new women-matching player and save $5 off your registration!