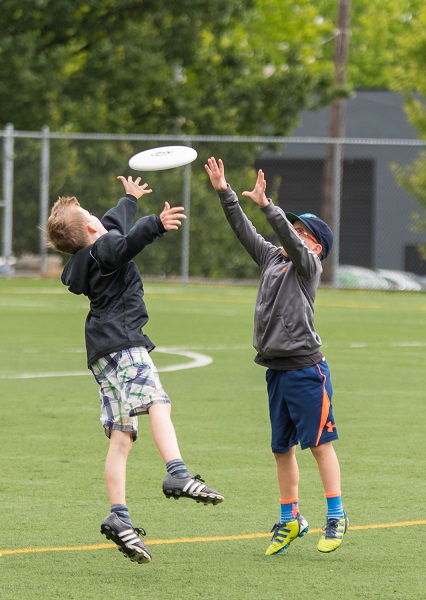 Ultimate is a great sport for kids to learn because it's fun, engaging and inexpensive, and we're excited to offer this program for 9-13 year olds!
Our U14 program is created and delivered in a way that teaches kids the foundational skills for ultimate with the main goal of having fun. We run basic drills, activities and games that are fun and functional, and kids will learn from experienced and welcoming coaches.
This co-ed program is not a team based activity. We create groups based upon the participant's skill level. They will all get a chance to play with each other throughout the program, as we work through the various skills and games.
If you are not happy with the program after the first day (February 3rd), we will refund your full registration (minus any jersey cost), but we're almost certain that won't happen!  Either way, this gives you the chance to see if this is the right program for you and your child.
Playing Info
Format: Mix of skills clinics and co-ed games in 5-on-5 format.
Duration: 9 weeks. See dates below.
Times: Sunday mornings, 10 am to 12 pm.
Location: Columbia Field
Age: 9-13 years old (ideal for beginner level players)
Learn new techniques and strategies from expert instructors, and then practice them in a game!
Cleats or runners can be used on grass fields, but we recommend cleats.
Everyone must bring a dark AND white t-shirt. If you don't have one, or would like to get a VUL reversible jersey, then please choose that option during the registration process. View sizing guide
Important Dates for 2020
| | |
| --- | --- |
| December 5, 2019 | Online Registration Opens |
| February 2 | Program Starts |
| February 24 | Online Registration Closes |
| March 29 | Program Finishes |
2020 Fees
| | |
| --- | --- |
| Single | $50.00 |
| Single with VUL jersey | $65.00 |
How to register
All players should be from age 9 to 13 (grades 4 to 8). However, we will consider players of other ages on a case-by-case basis.
Complete these steps to register:
All registration and payment is done online. Payment can be made with a credit card, Visa Debit care, or by e-transfer. 
If a player registers themselves, they must also provide Parental Consent once per year. Emails are sent to the player and parent/guardian with instructions. 
If you have a question, check out our Youth FAQ for answers. If you still need help, email youth@vul.ca