Event Info
Stay tuned for 2022 Event information!
* Note: in this article when we refer to women or men, we include self-identifying, non-binary and trans folks.
Held annually, Early June. 
A week during Summer League that we dedicate to women by encouraging teams to find new ways to engage women and have discussions about gender roles on their teams.  
What's it all about?
The purpose of Women's Week is to promote equal options on the field for all players. All team cultures are different so during this week we encourage you to take the opportunity to think about your team and other players that may not be experiencing equal opportunities on the field.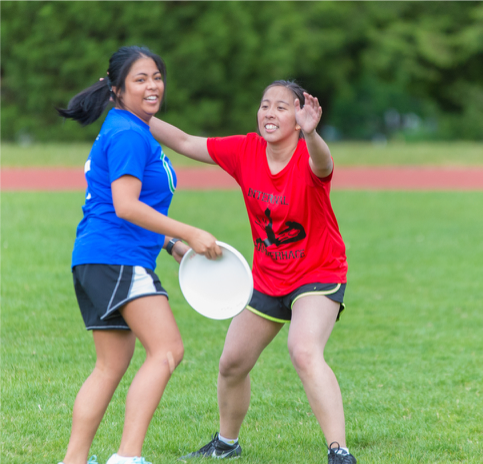 Some example of roles to encourage women to take on include:
| | | |
| --- | --- | --- |
| ✓ Pull the disc | ✓ Do the pre-game chat/flip | ✓ Lead a cheer |
| ✓ Catch the pull | ✓ Pick up the disk  | ✓ Call a play on the line |
| ✓ Be the initiating cutter | ✓ Be isolated in the endzone | ✓ Cut for their huck |
If women on your team are already doing some of these, teams can think up some other ways to have women lead on the field (i.e. have all women handlers). 
Of course, this isn't mean to just be done for Women's Week. We hope teams continue to think of these things and practice them throughout the season so that we can move closer to gender equity in ultimate. 
We also encourage teams to post photos using the hashtag #ultiwomen on Twitter or Instagram. 
What Players Tell Us
Here are some comments we've received about what happens on the field:
"Four of our five ladies had impressive hammers!"
"PLAYED TWO POINTS WITH ALL 7 WM PLAYERS ON THE FIELD!!! Shout out to our assistant captain Angela for suggesting it :)"
"Hilary never hucked the disc in our games until this week. Her secret power was revealed after she started pulling at the beginning of our points. She was incredible!"
"Lenny - crazy D then scored(double happiness!); Kelsey, sideline deke cut to score; Annie saved the disc from a seemingly inevitable turnover; Courtney -great D!; Nicky- end to end put to score"
How to participate
Show up to your league games, discuss with your team, and take action!
To read more about what the VUL is doing for gender equity, see the Women in Ultimate page under inclusivity.