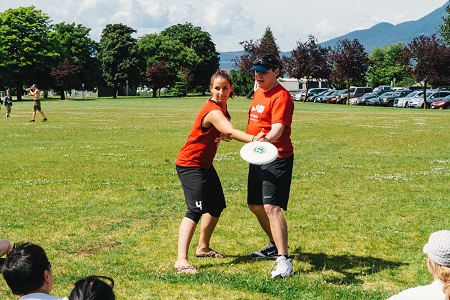 We offer several clinics and camps throughout the year.
What's the difference between a clinic, a camp and a league camp?
Clinics are FREE 2-hour sessions that focus on a specific skill or strategy. 
Camps a series of paid sessions over 1 to 5 days that help players develop a variety of skills & strategies.
League Camps run for several weeks or months and help players develop skills, strategies, and game experience. 
What you need
For any clinic or camp, bring a water bottle, cleats (or runners if you don't have cleats), as well as a light and a dark jersey/shirt.
Clinics
Intro Sessions
A special clinic designed for people who've never played ultimate before. Give it a shot!  Usually held in April and August/September. See the calendar to sign up!
Skills Clinics
We host multiple clinics on a variety of topics during the year. Typically these are run in April & May for Summer season, August & September for Fall season, and January for Winter season. See the calendar to sign up!
Camps
League Camps for Beginners
Run during summer season, this ongoing camp includes clinics and games. The best way to learn to play! Visit our Summer League Camp page to learn more!
Youth Camps
These are week-long camps for players aged 8-14. A great way for kids to learn about ultimate or improve the skills they already have. Read more about Youth Camps.
Bootcamps
We run a special series in the Spring for intermediate players, divided by gender. Females learn from the top females and males learn from the top males. Read more about Bootcamps.