Coaching Conference 2018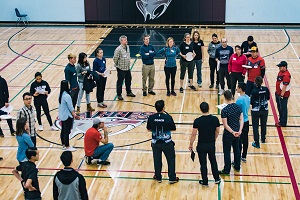 Join us for our annual Vancouver Coaching Conference on Saturday, March 3 at Stratford Hall School. 
Format & Audience
There will be two tracks of sessions during the day - one that caters towards beginner coaches and one for intermediate/advanced coaches. Both tracks will have engaging topics that will be relevant for:
Elementary School coaches
High School coaches
Club Team coaches (Youth and Adults)
VUL League Mentors and Clinic Instructors 
Brand new coaches who want to start but aren't sure where yet!
Coaches, teachers, and instructors from across the Greater Vancouver and beyond are welcome. This is a great place to meet, connect with, learn from, and share your experiences with other coaches. 
Partners
We are co-hosting with Elevate Academy. They are passionate about youth ultimate, coach development, and Spirit of the Game.
Keynote Speaker - John Smythe, National Athlete for Field Hockey Canada!
Stratford Hall will be hosting the event.
All attendees that register by Feb 15 will receive a sublimated jersey courtesy of BE Ultimate at the conference! (sizing chart) 
If you'd like to be involved as a partner, please contact Troe Weston via troe.weston@vul.ca.
Sessions & Schedule 
The event will run from 9:00-5:00 pm. Sessions will include topics such as:
Spirit of the Game
Drill development
Teaching basics
Coaching mental toughness
Season Planning
Injury Prevention
AND MORE!
Presenters include:
John Smythe - Field Hockey Canada
Mario O'Brien - RISE Up Ultimate
Alex Davis - Head Coach for Team Canada U24 Mixed, Captain of Furious George
Jen Nicholls - Experienced competitive coach, VUL Clinic Coordinator
Mauro Ortiz - past captain of Furious George, VUL Coaching Coordinator
Danie Proby - Elevate Academy Co-Founder and Head Coach
Ari Nitikman - Elevate Academy Co-Founder and athlete for Team Canada
Troë Weston - Head Coach for Team Canada U20, VUL League Manager
Registration
Registration is now OPEN!
The registration fee of $75 includes attendance to all sessions, and lunch! Register by Feb 15th get your jersey at the conference! (otherwise, you will have to pick it up Mid-March on your own time) All registration closes on Feb 28.
If you're a coach or instructor in the VUL and are unable to afford the full fee, contact us for assistance. Email troe.weston@vul.ca
To receive updates about the event, subscribe to our Conference Interest mailing list.
We hope to see you there!