Local Athletes Awarded Coveted Coaching Positions in the Middle East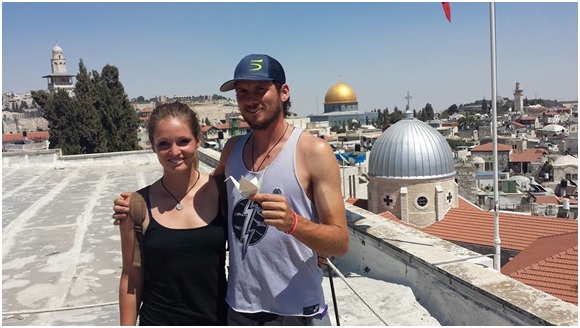 Danie Proby and Mike Grant, of Vancouver, will be returning to Middle East this July to continue their work with ULTIMATE PEACE whose mission is to build bridges of friendship, trust, and leadership between youth who live in communities divided by conflict, using the value-based sport of Ultimate Frisbee as its tool.
ULTIMATE PEACE (UP) was established by founders Dr. David Barkan (California), Linda Sidorsky (Massachusetts) and Dori Yaniv (Israel) in the spring of 2008. The idea emanated from a trip to Israel organized by David and Dori, in which an All-Star Ultimate team known as the Matza Balls taught Israeli children and promoted the sport of Ultimate.
Members of the team wondered what it would be like to have Muslim, Christian and Jewish children sharing the joys of throwing and catching a soaring disc, playing on a team cooperatively, and settling on-field disagreements collaboratively.
Ultimate is an ideal sport for bridging differences and promoting sportsmanship because there are no officials.  The players on the field make all of the calls.
The camp is located at Kfar Silver in Ashkelon, a politically charged region, just a few kilometers from the Gaza Strip, but political discussion and solution finding is deliberately avoided. The focus of the UP program is on providing a positive, educational, multicultural experience that is healthy, enriching, inspiring, and fun for youth.
This is exactly what drew Proby and Grant into the program.  Both are talented Ultimate players and have a history and passion for working with youth.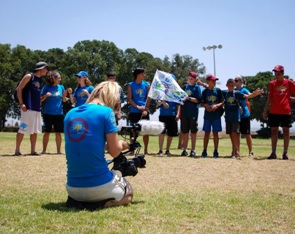 Proby, a recent graduate of the UVIC education program, found UP through her connections on the college circuit.  The best players from around the world apply to be a part of this exceptional program and just 45 are chosen from international ranks.
Last year, Proby volunteered as a videographer for the program but desperately wanted to return as a coach this year.  Here is a link to one of her videos: https://vimeo.com/100275219
Already an accomplished college player with UVIC, Proby, was thrilled this year to make the top women's club team in Vancouver—Traffic.  She has also started to build her coaching resume working with students at Burnaby Mountain Secondary and the U18 Girls club Mischief.
"I am super excited to be able to take what I have learned in the past year, both as a player and a coach, and share it with these youth in the Middle East.   Once on the field, everything is the same as here and the political aspects fall away.  Its just kids excited about playing a really great sport and they learn some great life lessons in the process."  
Grant is the living embodiment of the Ultimate culture.  After a storied career, representing Canada, which took him through numerous countries, he has recently returned to the sport after battling some personal problems.  He feels that Ultimate, and the community of people involved in it, are the reasons he is the person he is today and being part of UP is a way to give back and share what he has received from the sport.
According to Grant, "this project sends shivers up my spine every time I think about it, and stands for everything I'm about. I feel truly blessed to have learned so many important life lessons, and to now have the opportunity to impart some of these with some amazing Arab, Jewish, & Christian kids from all over Palestine and Israel. Being apart of a social movement with the intention to embrace differences, celebrate culture, value diverse friendships, and break down socially constructed barriers using Ultimate Frisbee as a tool is something I'm called to do."
This will be Grant's second year as a coach.
Proby and Grant are volunteering their time and paying their own way to be a part of UP.  The two will be hosting two separate live auction and entertainment nights for fundraising purposes.  One will be in Victoria on June 26th at Oakland's Community Center and the other in Vancouver on June 27th at Twist Sport Conditioning (68 E 2nd ave).  Any additional funds raised will be donated to ULTIMATE PEACE.
To attend, donate, or get involved in UP, you can contact them through their Facebook page https://www.facebook.com/victoriaultimatepeaceproject?ref=hl


Donations direct to :
http://www.ultimatepeace.org/bio/danie-proby/
http://www.ultimatepeace.org/bio/mike-grant/
---
Submitted by Danie Proby of Ultimate Peace