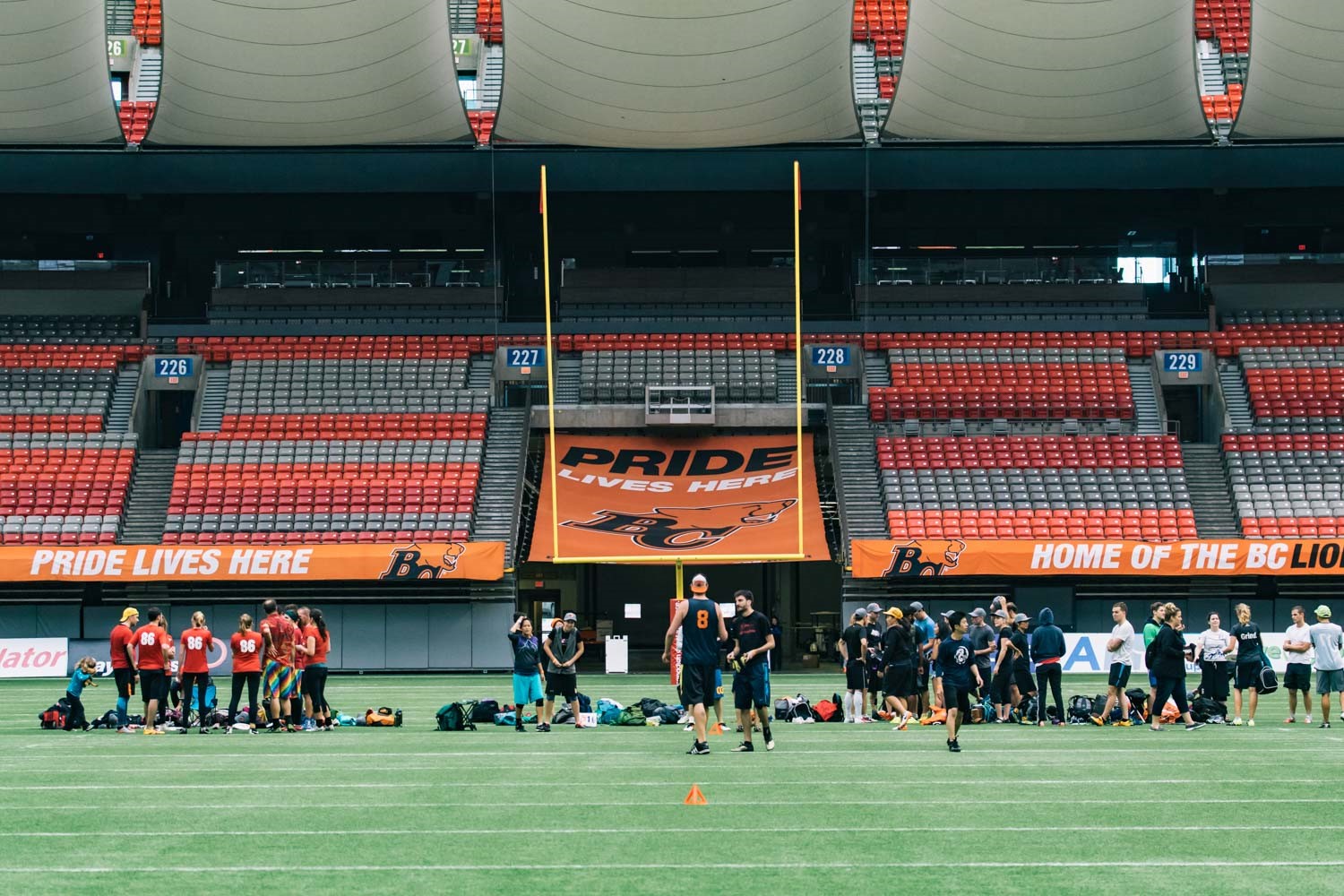 Play ultimate in a 60,000 seat Olympic stadium, on world-class turf! Need we say more? (We will...)
Event Details - 2017
On Saturday October 21 you can play inside BC Place. But this event isn't just a tournament…. After playing, you'll get to mow down on grub from The Tavern at New Oxford and beer from Strange Fellows, and then head back inside the stadium to watch the Lions game from the exclusive Club Orange Lounge. This event is happening in partnership with the BC Lions.
Last year the event sold out in 12 days, so don't delay registering!
FAQ
What's the day look like?
8:45 am – 9:30 am – Arrival and warm up
9:30 am – 3:00 pm – Tournament Play
3:00 pm -  3:30 pm – Optional Showers and Go for Linner
3:30 pm – 6:30 pm – Burger, Fries, Salad & Strange Fellows Beer at The Tavern at New Oxford
7:00 pm – 10:00 pm – Lions vs Eskimos Game from Club Orange Lounge inside BC Place!
How does the tournament work?
We'll be playing 5-on-5 ultimate and everyone will play at least 4 games. The registration format will be a hybrid-hat so you'll be able to register as a partial team of 5 (3 m, 2 w), pair (1 m, 1 w) or single.
We'll form teams of 14 - (8 m and 6 w) at rec and competitive levels.
Note: m - stands for gender match vs men. w - stands for gender match vs women. See our trans inclusivity page for more info. 
What's included in Food and Drink portion?
Each person will get a burger, fries and salad. You'll have the option for your burger to be beef, vegetarian, vegan, or gluten-free. You'll also get two beer tickets for Strange Fellows beer! (Non-beer request must be made during registration)
What's Club Orange?
A 250 person capacity lounge at the suite level inside BC Place! You can socialize and watch the game from the lounge or head down to a box seat to enjoy watching from there.
Registration Sets & Fees
Each player fee is is a package deal of $75 per person, which includes tournament participation, Tavern food and drink, and your ticket to access Club Orange at the Lions Game!
You have 4 registration options:
Group (3m, 2w) - $375  - FULL
Pair (1m, 1w) - $150 - FULL
Single (1m or 1w)* - $75 - FULL
Guest (non player)** $65
*Single m's are highly encouraged to find a w to register with as a pair to ensure we can find a team for you. We always end with more single m registrants than single w.
**Guest registration includes entrance to BC Place to spectate the tournament, food and drink at Tavern, and Club Orange Ticket to Lions Game
Due to the involvement of alcohol with this event, all participants must be 19+.
How to Register
Online via our registration page. Registration opens Sept 18. The event is now full.