2020 Update: See our Fall Options article for this year's plans. We'll update this page ASAP! 
---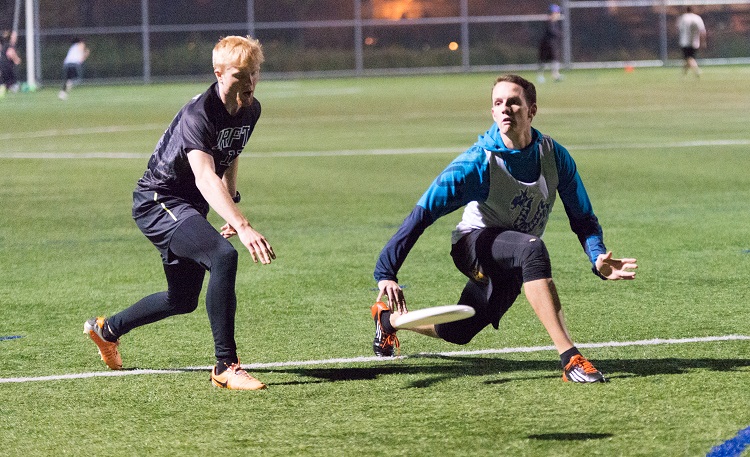 Are you interested in playing open ultimate? Here's your chance! This is a great league for intermediate or advanced players looking for fun competition and to get plenty of touches on the disc. 
You'll register as a Single or Double and the VUL will place you on a team. Games are played speed-point turf rules style. 
This league is open to men, those who gender-match against men, and those who skill-match against men.
2020 Updates
Due to COVID-19, our fall turf league will be played as 4-on-4 this year. This league will continue to use regular 5-on-5 rules (eg. sub on the fly, etc) with the following exceptions:
Field Size is slightly smaller to give space on the sidelines for teams to be spaced - 20 yards x 60 yards with 10 yard endzones
MAXIMUM roster size of 14 (including subs!)
Games played to 21
Co-horts/Divisions of 4 teams playing each other with a one week bye to re-seed teams and change cohorts
Playing Info
Format: Modified Hat League with 5-on-5 Rules - but played as 4-on-4 to reduce contact numbers for COVID.
Duration: 10-11 weeks - see dates below. Depending on the need for reseeding.
Timeslot: Sundays from 7-9 pm.
Location: Andy Livingstone
Age: 19+, or 17+ with parental consent
Inclusivity: All players are welcome, including LGBTQ2+ and transgender.
Note this is an adult league. If you are a high school student, see the Fall Junior Turf league.
Important Dates for 2019
| | |
| --- | --- |
| September 9 | Registration Opens |
| September 17 | All Registration Closes |
| September 27 | Games start |
| October 11 | No games this week for re-seeding divisions |
| December 6 | Games finish |
2020 Fees
| | |
| --- | --- |
| Single | $95.00 |
| Double (2 people) | $170.00 |
How to register
Read the registration guidelines for Hat leagues, and then register online once registration opens.