Laurel Stroppa and William Hawkins Spirit Awards
Spirit is integral to ultimate and the VUL. Every year we request nominations for the most spirited players to receive the Laurel Stroppa Atwood Spirit Award and the William Arthur Hawkins Spirit Award. Simply being nominated for one of these awards is an achievement to be celebrated. Receiving the award is the highest individual honour in the VUL. 
If you know someone we should recognize, please nominate them! Contact us with a description of why they are a good candidate.
Laurel Stroppa Atwood Spirit Award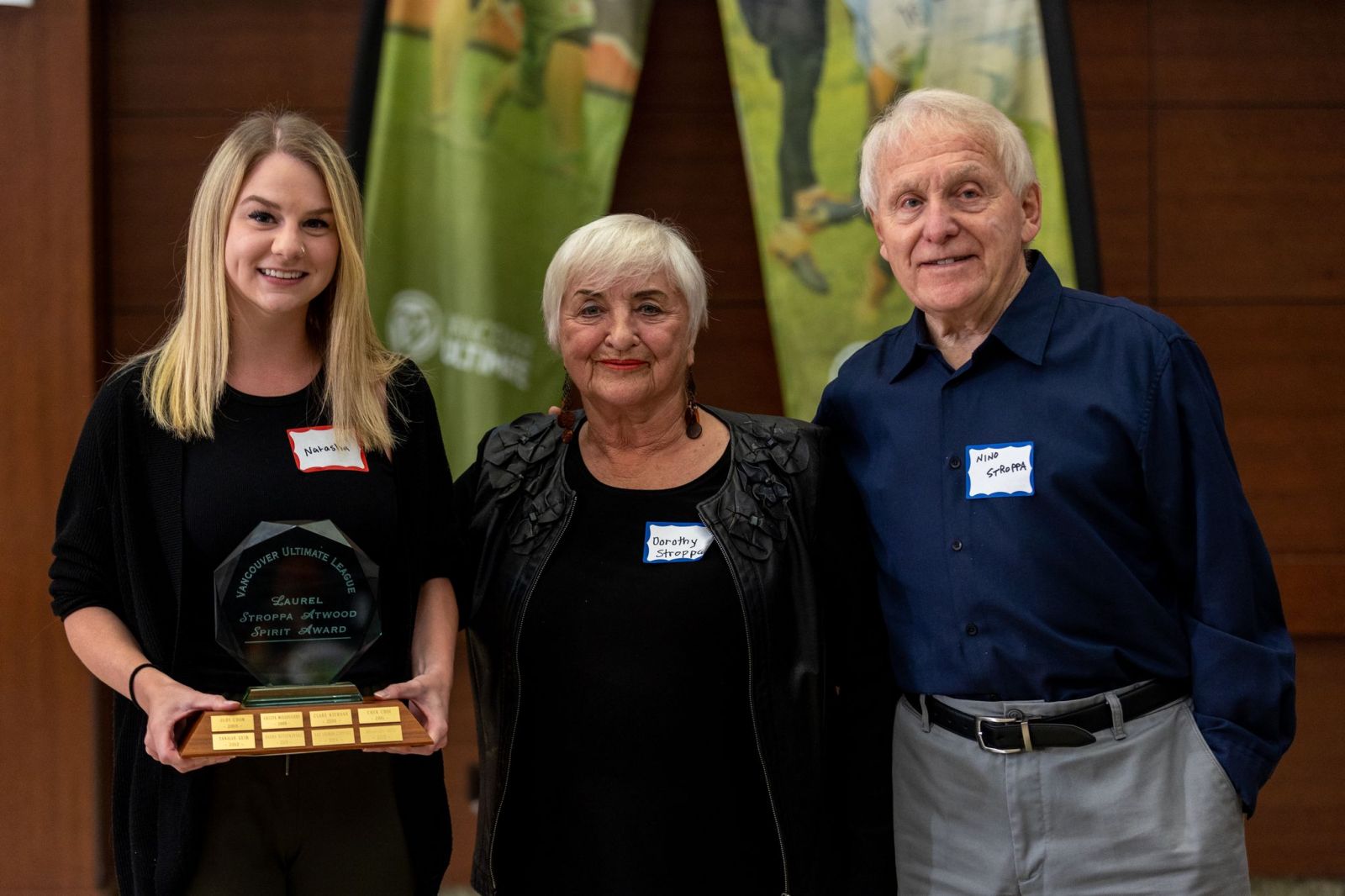 Laurel Jean Atwood (nee Stroppa) was a well-known and much loved member of the VUL, heavily immersed in the community during the 1990s and 2000s. Laurel had contagious spirit on the field and a jovial presence at league social events, many of which she was involved in planning and promoting. Through two bouts of breast cancer over 9 years, Laurel never lost her love for the game - even making it out to the field numerous times in her final year to cheer on her league team. Sadly, Laurel passed away in 2007. In 2008 the VUL renamed one of the spirit awards to the Laurel Stroppa Atwood Spirit Award.
Past Recipients:
2022 - Natasha Hansen
2021 - [not awarded]
2020 - Virginia Watson
2019 - Wesley Chan
2018 - Jade Shiller 
*2017 - Clint Sello
2016 - Meghan Mathieson
2015 - Shannon Seid
2014 - Kat Louman-Gardiner
2013 - Dasha Kvyatkovski
2012 - Tanille Geib
2011 - Cher Choi
2010 - Clare Kiernan
2009 - Krista Willoughby
2008 - Judy Chow
2007 - Carla Craddock
2006 - Eva Cham
2005 - Anne-Marie Carey
2004 - Tamara Roberts
2003 - Jenny Motkaluk
2002 - Mercedes Thaysen (Hayduk)
2001 - Alison Thompson
2000 - Hope Kubryn
William Arthur Hawkins Spirit Award
Art Hawkins was a prominent and impactful member of the VUL. He was a board member in the mid-2000s, founder of Elimination 8s, and served as Executive Director from 2008-2010. Art was renowned for his dedication to spirit of the game. His vision of spirit was always focused on the game as a whole, not just about fouls or fair play, but a dedication to the sport of ultimate both on and off the field. Art worked tirelessly to help push our sport forward, and there is nobody playing ultimate in Vancouver today who does not benefit from his dedication to the VUL. Unfortunately we lost Art all too early in 2010 when he passed away from cancer. The following year one of the spirit awards was renamed the William Arthur Hawkins Spirit Award, the same award he also won in 2003. 
Past Recipients:
2022 - Daniel Sax
2021 - [not awarded]
2020 - Melissa Woodward
2019 - Doris Chang
2018 - Matthew Fisher
*2017 - Allison Lambert
2016 - Lawrence Duong
2015 - Jeffrey Roy
2014 - Ben Klein
2013 - Travis Smith
2012 - Rob Taylor
2011 - Mark Seiling
2010 - Dennis Hummerston
2009 - Stuart French
2008 - Jordan Menu
2007 - Arrlann Christie
2006 - Jeff Fast
2005 - Geoff Bell
2004 - Kelly Mah
2003 - Art Hawkins
2002 - John Lenko
2001 - David Savory
2000 - Torbin Mackenzie
* In light of the VUL's gender inclusivity policy changes, in 2017 we stopped handing out the awards according to gender.