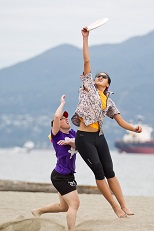 Working on plans for 2022 - check out our newsletter for up to date information on tournaments in this year!
If you've never played beach ultimate, now is your chance! It's tougher to run in the sand, but laying out is oh so much more fun.
About 4 on 4 Beach
This version of 4-on-4 ultimate is oh so much fun. You'll have 2 man match-ups and 2 woman match-ups on the field at all times. The game is NOT continuous like 5 on 5 turf. You'll stop after a point is scored and sub off/on like in 7 on 7 with a new pull each time.
The fields are 46 m long and 27 m wide with endzones that are 7.5 m. Stall count is 6 and all pulls must be an inverted throw. You can read the full rules on the BULA website.
Players must be 19+ with the exception of 17 or 18 year old's with parental consent, according to VUL age regulations.
Event Details
The Monday of Labour Day weekend at Spanish Banks is where the VUL hosts it's annual beach tournament! This one day event includes 4 games and lunch!
2019 Info
Monday, September 2 at Spanish Banks West  *For 2019 we're at Spanish Banks East. Games will start around 9am and go no later than 5pm.
How to Register
Online via our registration page. Registration opens Thursday, Aug 1 and closes on Sunday, Aug 25.
Registration amount is $300 for 2019.