Strategic Plan 2021
We are currently following a 5-year plan that runs from 2017-2021. 
Vision & Mission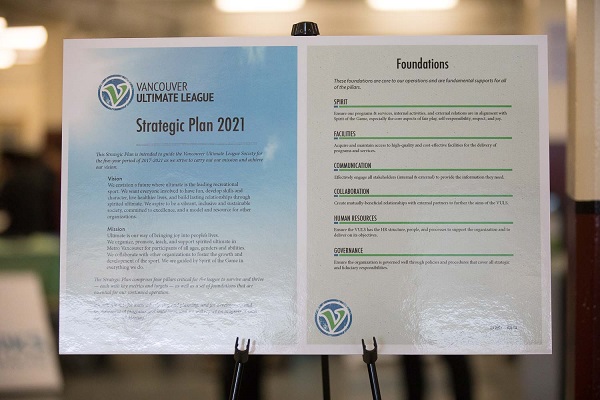 The plan is guided by new Vision & Mission statements:
Vision: We envision a future where ultimate is the leading recreational sport. We want everyone involved to have fun, develop skills and character, live healthier lives, and build lasting relationships through spirited ultimate. We aspire to be a vibrant, inclusive and sustainable society, committed to excellence, and a model and resource for other organizations.
 
Mission: Ultimate is our way of bringing joy into people's lives. We organize, promote, teach, and support spirited ultimate in Metro Vancouver for participants of all ages, genders and abilities. We collaborate with other organizations to foster the growth and development of the sport. We are guided by Spirit of the Game in everything we do.
Pillars & Foundations
Throughout this plan, we are focusing on 4 Pillars and 6 Foundations:
Pillars: Youth, Adults, Regional Support, Leadership
Foundations: Spirit, Facilities, Communication, Collaboration, Human Resources, Governance
Strategic Plan 2016
Our first 5-year Strategic Plan completed in 2016. View a one-page summary.
Our goal was to increase the number of people playing spirited and satisfying ultimate in Metro Vancouver from 6000 to 8000. We blew past that goal - at the end of 2016, we estimate there are 10,000 people playing ultimate in Metro Vancouver!