Welcome to Misfit! 
Are you a high school player looking to compete at the BC or Canadian Ultimate Championships? If so, then Misfit Ultimate is for you! 
We provide a positive environment emphasizing respect, fair play, teamwork, hard work, and commitment. Win or lose, by the end of the summer. Players will have a sense of accomplishment, significantly increased knowledge and skills, new friends, and many fun memories.
Summer 2023 Youth Club Season
Overview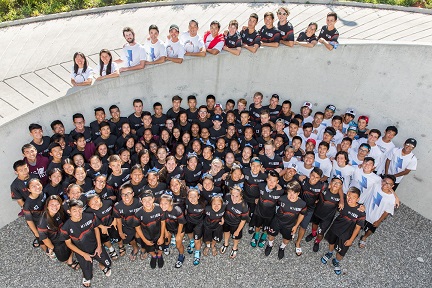 Misfit will host various teams, from elite-level teams competing in Canadian Ultimate Championships to skill-development squads to train younger players (Thunderclub).  
Tryouts for the Club Teams will be held the week after High School Championships in late May. Teams will be formed based on skill level, and the season will run until mid to late August. Teams will practice three/four times per week and participate in several tournaments throughout the summer. More info, including fee schedule is below in the Tryouts section.  Registration for tryouts is now open.
Registration for Thunderclub is now open. Athletes will practice twice weekly (Tuesday/Thursday) and participate in at least one tournament.  
---
Misfit Summer Club and Tryouts 
High School players looking to play on a competitive Touring or Regional team for the summer must attend tryouts. Touring teams are formed to compete at the National Tournament held in mid-August (in Surrey, BC), competing against other teams from around the country. Regional teams will compete against more local teams.  Registration for tryouts is now open. See below for Frequently Asked Questions (FAQ's).
Touring Team information:
Touring teams are formed with the intent of qualifying for, and competing in, The Canadian Ultimate Championships being held from August 13-16 in Surrey, BC.  
Fees for Touring is $795 per player.  Fees include:

Top level coaching (coaches will be announced soon but Eclipse level will have either former or current Furious George and Traffic players)
All tournament fees including Misfit Cup, Regionals and Nationals
AHL participation. An Athlete Health Liaison - essentially a sports-oriented physio-therapist in training -- will be assigned to teams to help monitor health, lead strength and conditioning trainings and be available for athlete/parent consultation.  
Vancouver fields (Practice three times a week -- Tuesday and Thursday 4-6, Saturdays 10-1 or 1-4)
Customized sublimated uniforms
Branded disc
An amazing summer of ultimate! 
Regional Teams are formed to play more locally but the season still includes a number of tournaments, three times a week practice and tons of skill development  
The fee for Regional teams will be $650 per player.  Fees include all of the above, minus AHL participation and extra fees associated with competing in Nationals.  
All players must register online before they are permitted to participate in the tryout. The tryout fee is one-time fee and can be made online during registration. Players and parents must ensure they have created an account with the VUL to register online.
Tryout Info
The tryout fee is $15 and covers field costs and expenses associated with the extended tryout process. 
After completing the online registration form, players will be notified of final tryout dates and locations. Registration for tryouts is now open.
Tryouts will be held:
Players must arrive half an hour early to warm up and check in. 
Please bring the following to tryouts: 
Light and Dark jersey 
Water 
Cleats 
Tournaments Attending
Misfit Cup Jun 17-18 (all teams)
BCUC July 8-9 (all teams)
Canyon Cup July 22-23 (all teams - optional)
Reign Hat July 22 (Regional - optional)
Canadian Ultimate Championships August 13-16 (Touring only)
Regional Championships August 27-28 (Regionals only)
Fees for Tryouts
Single Player Fee: $15
FAQ's
What is Misfit Ultimate?
Misfit is the Vancouver youth club branch of the Vancouver Ultimate League Society (VUL). VUL is a registered non-profit society originally founded in 1986.
How long has Misfit been running?
Founded in 2007, Misfit is the longest running youth program is Vancouver (maybe Canada).
What are the overarching goals of Misfit Ultimate?
As a club level organization, our goals are to promote spirit of the game, competition, improvement and fun for high school-aged players.  We are are inclusive and open to all players. Our strategic goal for touring teams is to make nationals and compete for top spot(s).  Our strategic goal for regional teams is to develop stronger players and take top spot(s) at the year end regional tournament.
Why are the prices of Misfit so much less than the private club?
Our goal is to promote ultimate, not to make a profit.  Misfit is part of the VUL, a registered non-profit society, dedicated to the promotion of the sport of ultimate.  As a non-profit, we are eligible for reduced rates on a variety of expenses and and we also rely on the generosity of volunteers who are interested in promoting the sport and Spirit of the Game.
What is the difference between Misfit summer club and the private summer club program?
Besides cost, there is no difference as far as we can tell.  Our touring teams are coached by top level coaches (open, women), practice 3 times a week, tournament fees for all summer tournaments leading to Nationals, have dedicated AHL's (Athlete Health Liaison — physio in training), custom jerseys and a complimentary disc. Our regional teams have everything as above except for the AHL's.
If you have a question, check out our Youth FAQ for answers. If you still need help, email youth@vul.ca
---
Misfit Cup
Misfit Cup kicks off the summer youth club season on Saturday, 17th June and Sunday, 18th June 2023 at Burnaby Lake. The tournament is open to all youth level club teams and will feature Open and Women's divisions.  The fee will be $350 per team.
To register your interest in playing, please complete this Google form.
---
Thunderclub 
Thunderclub is a developmental program for high school players meant to improve their skills and develop their passion for Ultimate. Players practice two times a week and are supervised and taught by skilled and experienced coaches. The focus will be on skill development, offensive and defensive strategy, conditioning, and Spirit of the Game. Most practices will consist of a combination of drills, scrimmages, and strategy. Registration is now OPEN.  
Playing Info
Format: A co-ed skills development program with a mix of drills, activities, and scrimmages
Duration: 7 weeks, June to August.
Schedule: 

Tuesdays and Thursdays, June 20 to August 3 at Prince of Whales School, 4-6pm

Age: High School
Inclusivity: All players are welcome, including LGBTQ2+ and transgender. 
Please bring:

Bottle of water. 
Cleats or runners can be used on synthetic turf fields, but we recommend cleats.
A dark and white t-shirt. 
Important Dates for 2023
June 20 - Programs Start
July 1 - Online Registration Closes
Fees 
Single Player Fee: $450
Fees include fields, coaches, Misfit Jersey, disc, and entry fee into at least one summer tournament (hopefully 2). 
If you need financial assistance, see our list of organizations that support families. You can also donate to them to support other families. 
How to Register
All players should be ages 13 to 17 (as of December 31st this year). However, we will consider players of other ages on a case-by-case basis.
This is not a team-based program. We divide players up based on skill level. However, everyone can play with each other through various skills and games.
All registration is done online and is open now, and payment can only be made online with a major credit card or via an e-transfer. No in-person payment is available. Registration is now open.
If you have a question, check out our Youth FAQ for answers. If you still need help, email youth@vul.ca
---
Misfit Coordinator Team 
Our instructors are knowledgeable and passionate and ready to pass on everything they know to our upcoming players. Our Misfit Coordinators would like to introduce themselves so you can get to know them better!
Andrew Fielding 
Andrew has childhood memories of frisbees flying long before being introduced to Ultimate in college in 1994.  Andrew has played at all levels of the game, from random pick-up to US Nationals.  He's made numerous friends through the sport and has made countless memories playing in dozens of cities on four continents.  His focus now is on developing the game at the youth level.  As a coach, he started with Misfit in 2022 and is now the lead coordinator.  His focus will be on Spirit, competitiveness, team building, and fun.