Posted by Craig on October 22, 2014 9:16 pm
Photos by Justin Ho. Article written by Marketing Manager, Craig Kulyk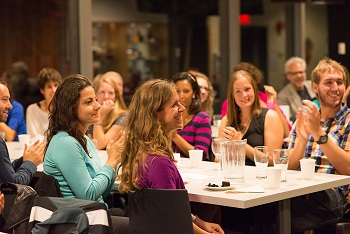 Saturday, October 18th marked the 6th Annual Awards Banquet for the VUL. It's was an evening full of laughter and recognition as we assembled the VUL's largest contributors – board, staff, co-ordinators, organizers, volunteers, partners, top spirited players, and hall of famers.
The evening began with drinks and appetizers. Upon taking their seats before dinner, guests were welcomed with a slideshow titled 'The Past Year in Photos'.  After dinner, the awards and hall of fame inductions began.
Male and Female Volunteer of the Year
The first set of individual awards presented was for Male and Female Volunteer of the Year.
The Male Volunteer of the Year was presented to Myles Lu, for his work as one of our most requested mentors over the past few years. Myles excels in teaching the skills, strategies and spirit that is important for new players in their early stages of learning the sport.  
The Female Volunteer of the Year Award was given to Laura Barreca for her continued efforts on the planning committee of several VUL parties over the past 3 years. Laura has been a huge asset in the successes of the recent Christmas and Summer parties. 
Both Myles and Laura received a $50 MEC gift card and $50 Inysnc Physio gift card for their award.
Male and Female Spirit Awards
The next set of individual awards presented was the Art Hawkins Male Spirit Award, and the Laurel Stroppa Female Spirit Award.
The Art Hawkins Spirit Award was presented to Ben Klein, captain of Dim Sum Warriors. Here's what one of Ben's nominators said about him: "Ben is always amazing on the spirit count. He'd cheer for both teams in other games when he arrived early, he'd be chatting with, complimenting and cheering for both teams while he was playing, and he'd share treats. If anyone ever asked what good spirit looked like, I would just point them to Ben and tell everyone to be as much like him as possible."
The Laurel Stroppa Spirit Award went to Kat Louman-Gardiner. Here is what one of Kat's nominators said about her: "Kat really embodies spirit of the game - she's been amazing at teaching all of us to play hard, spirited, competitive ultimate and I'm super happy she was our mentor. I've also seen a bunch of pictures of her with the spirit tie on facebook, so even though I've never played against her, her opponents must think she's very spirited too. I also can't believe how many different spirit games she knows!"
As these awards are the highest individual honour for the VUL, Ben and Kat each received a $250 Rackets & Runners gift card. Thanks Rackets & Runners for this generous prize!
Team Spirit Awards
Although these awards were announced in September, the Banquet was the VUL's chance to recognize the top spirited teams in the VUL, and present them with their well deserved award – a $500 gift certificate for Oddball Workshop. Big thanks to our jersey partner, Oddball Workshop for this fantastic prize!
The winners were:
Monday: Random Fling
Tuesday: Illegal Smile
Wednesday: Dim Sum Warriors
Thursday: Game of Throws: You win or you cry and Never Nudes (TIE)
Carbon Flip Award
Our green initiative to encourage biking and carpooling to games resulted in two teams with perfect scores during Summer League! The winning teams of Ultimate Flying Objects and H.A.M.M.E.R each received $25 MEC gift cards for every player on their roster!
Hall of Fame Inductions
Throughout the evening, three more legacies of Vancouver disc sports were inducted into the VUL Hall of Fame - Doug Grant, Patricia Anne (PA) Brown, and  Leslie Calder. This brings the total number of VUL Hall of Famers to eleven. Here's why our three inductees were selected this year: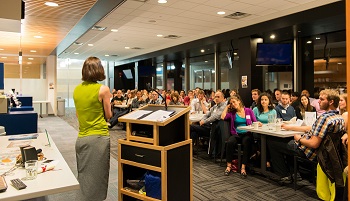 Doug Grant was a one of the founding members of the VUL and first coordinator of the VUL (along with Jo Playfair). He was also the founding treasurer of the VDSS in 1985 and played with the Flaming Red Sallies - the first Vancouver competitive team to play at Canadian Nationals. Doug was a ubiquitous presence on and off the field from the time he arrived from Calgary in 1985 until ultimate really took off in the mid-90s. He was the guy who made every touring team practice and every league game. If you ever needed something done - be it looking after tournament central, making a quick trip to pick up ice, finding a team for a new player, he was always happy and willing to help. 
Patrica Anne (PA) Brown was the founding secretary of the Vancouver Disc Sports Society and a founder of the first women's team Jayed Gaitz. She really was the driving force behind the creation of women's ultimate in Vancouver, she was a ubiquitous presence both on the field for league and touring teams and off the field as an organiser and volunteer. PA also represented the VUL/BCDSS on the board of Ultimate Canada in 1992. 
Leslie Calder  was one of the best female ultimate players during her career. She started playing ultimate in 1994, coming from a competitive badminton background. Her dedication to growing the women's team Goo/Prime into an gold medal team over multiple years helped the team win 5-6 national titles and put the team on the international map with 2 gold medals at the World Championships. She put played on the first ever World Games team and helped the team bring home gold. On top of all this, Leslie was actively involved in the VUL, playing on multiple league teams of varying levels including as a mentor in 2004.
Thank you!
There are a number of people whose contributions, past and present help make the VUL one of the most thriving and well known ultimate leagues in the world. Thanks to everyone who has helped in one way or another – be it organizing, coaching, volunteering, spirited play, or anything in between!
See photos on our Awards Banquet Album on facebook.