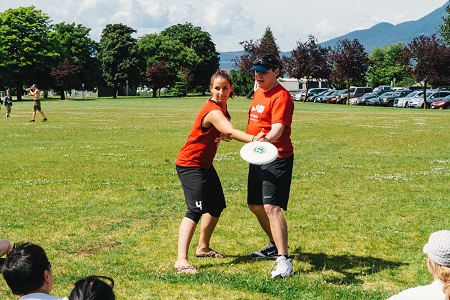 We offer several clinics and camps throughout the year.
Clinics are by-donation 2-hour sessions that focus on a specific skill or strategy. 
Camps a series of paid sessions over multiple weeks that help players develop a variety of skills & strategies and then apply them in games. 
What you need
For any clinic or camp, bring a water bottle, cleats (or runners if you don't have cleats), as well as a light and a dark jersey/shirt.
We frequently hear from participants that our clinics are top notch. Our two objectives for each clinic are that:
participants enjoyed spending their time at the clinic
each participant walks away with something to improve their game 
Clinics are designed by long-time player and coach, Jen Nicholls. Jen started playing in 1995 and attended her first Canadian Ultimate Championship (CUC) that same year. She was first selected for the Canadian Mixed team in 1998 and has been a part of Team Canada over a number of years and across a few divisions. Jen leads many of the clinics first-hand and brings in special guest coaches for large clinics or when she's unavailable.
Intro Sessions
A special clinic designed for people who've never played ultimate before. Give it a shot! Usually held in April, January and August/September. See the calendar to sign up!
Skills Clinics
We host multiple clinics on a variety of topics during the year. Typically these are run in April & May for Summer season, August & September for Fall season, and January for Winter season. See the calendar to sign up!