The Art Hawkins Great Canadian Ultimate Game is an annual event where communities across the country play ultimate for a cause.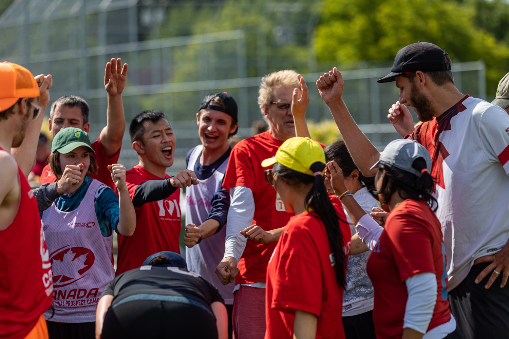 In past years, ultimate players in more than 30 communities throughout Canada played a pick-up game of ultimate between a red team and a white team on the same day, and scores across all communities were added up to determine the winning team.
As part of the event, all money raised is contributed to the Art Hawkins Development Fund, named for the late VUL Executive Director Art Hawkins, who started the Great Canadian Ultimate Game with Ultimate Canada. The fund supports the accessibility and development of ultimate and Spirit of the Game for youth in economically disadvantaged communities in Canada.
This year, social distancing guidelines have led event organizers to come up with something a bit different: ultimate players and their families and teammates can take part in the first-ever virtual Art Hawkins Great Canadian Race!
How the 2020 event will work:
Reconnect with your ultimate family members on Saturday, June 13 from 11 am to 12:30 pm PST (2-3:30 pm EST).
Create a team of 4 to 6 members and register through Ultimate Canada. There is no cost to participate, but if you are able to donate to the Art Hawkins Development Fund you can do so during the registration process.
On race day, team captains will be sent a task list and then teams will have 90 minutes to virtually compete in tasks and challenges that are assigned points. Points from teams within the same community, league or program will be pooled together!
Learn more and register at Ultimate Canada - or, you can donate directly to this amazing cause.