Posted by Craig on July 15, 2019 11:40 am
Pride month is underway in Vancouver and we're celebrating some of our LGBTQ2+ members. We asked each one how others in the VUL can be more inclusive...
Special thanks to Rain City Ultimate, our LGBTQ2+ partner for their support and participation. (Rain City is a local community organization dedicated to promoting ultimate to LGBT2Q+ individuals and allies by providing a supportive and fun atmosphere in which to develop as athletes and individuals.)
Name:
Jakob
Pronouns:
he/him
# Years played:
5
Why you play ultimate?: 
It combines everything I love about sports. It's competitive, social, democratic, inclusive, playful and athletic.
How can others in the VUL be more LGTBQ2+ inclusive?
We like to celebrate and show pride in what we are. Celebrate with us and be open and curious, ask us 101 questions and discover a whole universe behind each of the letters LGBTQ2S.
---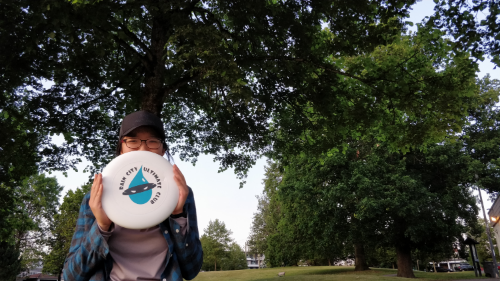 Name:  
Joanne 
Pronouns:
they/ them, she / her 
# Years played:
First season! 
Why you play ultimate?:  
I wanted to join a queer sports team and when I found out about Rain City, I decided to give it a try. It's my first season playing Ultimate and I am enjoying it a lot! I find Ultimate to be a very positive sport. I like that the sport focuses a lot on just having good team spirit. 
How can others in the VUL be more LGTBQ2+ inclusive?:
For VUL in general, I'd like to see more inclusive language being used. I'd like to see the structure of the sport have less emphasis on cis-normative language when referring to ratio rules, "gender matching" etc..
For other VUL members in general, I'd like to encourage people to follow the Rain City page on Facebook and come out to our events! Get to know us, ask us questions.. And come party with us at Pride! Find out what we are really about.
---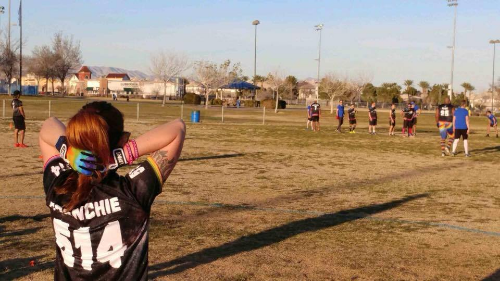 Name:
Cora
Pronouns:
She/Her - They/Them
# Years played:
1.5
Why do you play ultimate?:
I started to play Ultimate when I moved to Vancouver. I only knew one person and she asked me to join RCUC. I remember saying that  "Ultimate isn't a sport, it's what you play with your dog or at the beach." When she told me that RCUC was a LGBTQ2s+ team, I said yes right away. I then realized how challenging and fun the sport is and loved the spirited aspect of it. Feeling included and part of a community is one of the main reasons I kept playing.
How can others in the VUL be more LGBTQ2+ inclusive?:
I believe that simple acts (on and off the field) are way more effective than a grand gesture. Do a round of names/pronouns before a game, use gender neutral pronouns when you are referring to a player from another team instead of assuming, remind your team to use "person" and not "man" etc. A shift in the language we use is so easy but yet so effective to make everyone feel included. If you want to push it even more, why not do more initiatives and do things like a gender neutral point. The list can go on and on, but I feel like small things are key. One more thing would be curiosity. Ask us questions, we are loud and we are proud, and part of being proud is that we want to spread the word. There are no dumb questions, and asking them will make us feel like you are more than just another player, you are someone who wants to be a true knowledgeable ally.
---
Name:
Monica Hessels
Pronouns:
She/Her
# Years played:
9
Why you play ultimate?:
I play for the people and the frisbee family (framily) that I have made over the years. Also so that I can flick huck until my heart's content. 
How can others in the VUL be more LGTBQ2+ inclusive?
"Don't yuck my yum" is probably my favourite advice I've ever gotten and I'd love to see it catch on in all aspects of life, especially frisbee. Providing space for people to be their weird, awesome selves not only helps people be more comfortable but also it's a great way to keep up your team's SOTG.