Posted by Craig on July 17, 2018 12:05 pm
It's Pride season in Vancouver so we're jumping on board to show our support for LGBTQ2S+ members and to welcome more LGBTQ2S+ people into our community. 
What does LGBTQ2S+ mean?
Before we dig in, you may be wondering about the terminology of LGBTQ2S+… This acronym stands for Lesbian, Gay, Bisexual, Trans, Queer & 2-Spirit. The + denotes that there are many other identities and communities within the LGBTQ2S+ population that are not represented in these six words. Making fun of the length of this acronym can have a trivializing or erasing effect on the group(s) that longer acronyms seek to actively include. For more info on terms including queer, 2-spirit and trans, see our glossary page. 
Partnering with RCUC for Pride Campaigns
This year, we've partnered with Rain City Ultimate Club (RCUC) to work on several Pride initiatives. RCUC is a non-profit community organization dedicated to promoting ultimate to LGBTQ2S+ individuals and allies in Vancouver by providing a supportive and fun atmosphere in which to develop as athletes and individuals. They host weekly practices in the summer, a Pride tournament during Pride Week and have several teams playing in VUL leagues throughout the year.
Here's what we have planned for Pride Month:
1. Beach Disc Day with RCUC
We're co-organizing a fun new beach event this summer! It consists of: Beach Goaltimate, lunch and Disc Olympics on Saturday, July 28 at Spanish Banks. Space is limited! $9 for a single, $15 for a duo, $20 for a trio. 100% of proceeds support LGBTQ2S+ ultimate in Vancouver. The VUL will cover the cost of captains for this event as part of our Captain's Appreciation. Read more and sign up.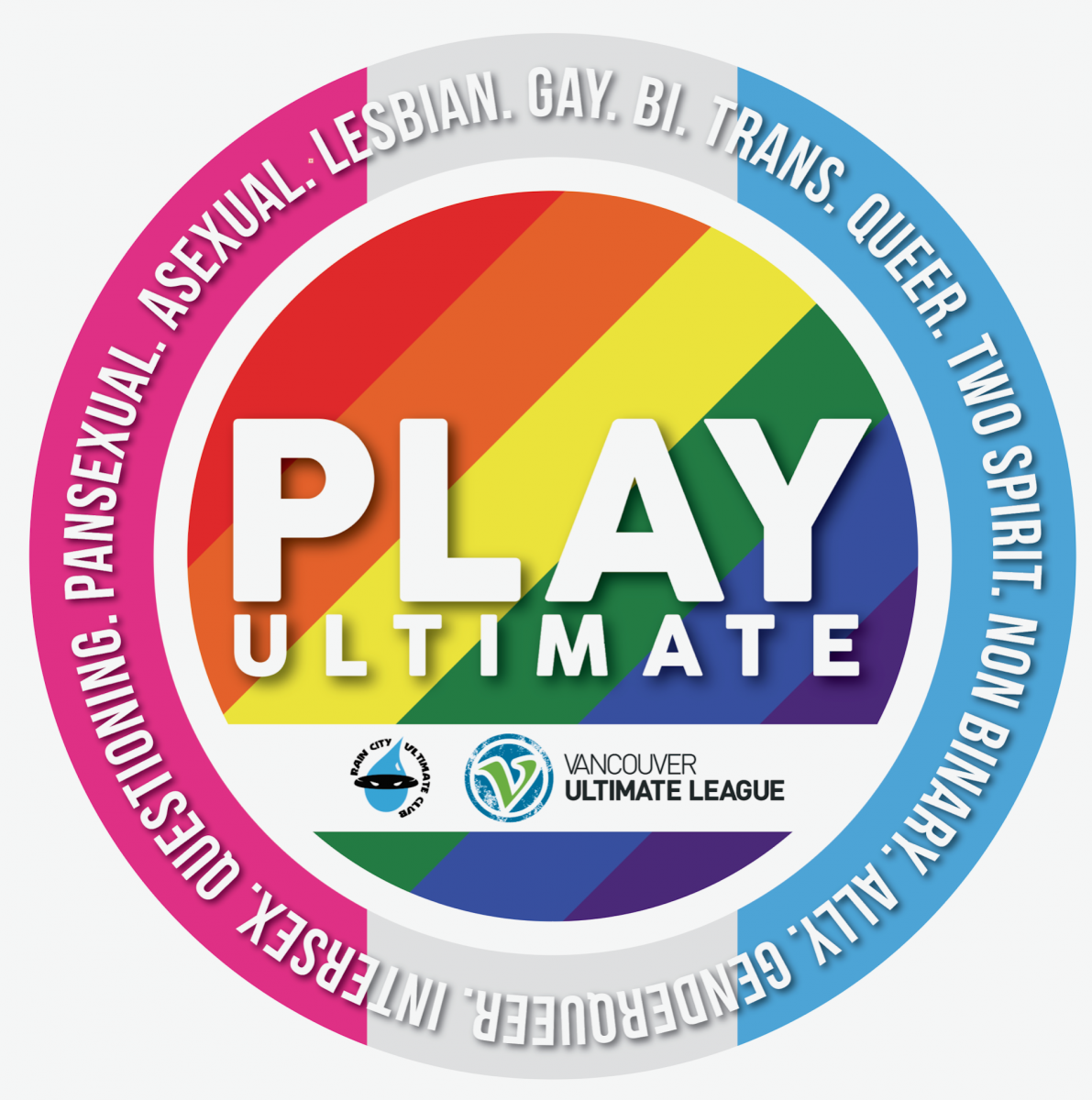 2. Pride Ultimate Stickers!
We've co-created stickers to hand out at Pride events in Vancouver. This includes Pride Sports Day on July 22, our Beach Disc Day on Jul 28, and the Pride Parade on August 5. 
3. LGBTQ2S+ Member Highlights
We'll be showcasing LGBTQ2S+ members of the VUL every Friday on Facebook and Instagram between July 20 and August 17. We'll also be asking each person the question – "How can VUL members be more LGBTQ2S+ inclusive?"
New LGBTQ2S+ Inclusivity Page
Lastly, we recently created a static webpage under our inclusivity menu specifically about LGBTQ2S+ inclusivity. On that page you'll find resources including over a dozen articles that have been written related to ultimate on the topics of:
Lesbian, gay, bi, queer
Transgender, gender diversity & non-binary
Supporting LGBTQ2S+ players in ultimate
See the LGBTQ2S+ inclusivity page and share with others who may be interested, impacted or find the sport welcoming enough to try it out!